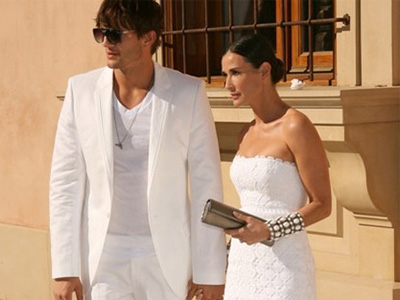 Need Moore style? (Demi Moore's chic aesthetic, to be exact.) We love her classic, sexy style on and off the red carpet. We hear she'll be hitting Dallas for the Super Bowl, and we're sure she'll be on of our picks for best dressed.
Known for wearing dresses that are body-conscious without revealing too much of her perfect figure, her look is all about the right silhouette. Want to be sporting her enviable, elegant style by the time the Big Game rolls into town? We're highlighting accessible pieces that'll make you feel like you've got Mrs. Kutcher's closet at your disposal.
We love Moore's polished strapless dress (pictured at top), but for Dallas in February, it's a bit off-season. Copy the same sleek look with Forever 21's lace dress. It's fitted perfection, and for $19.80, it's beyond necessary. Pick up the Christian Louboutin "Sashita" clutch at Barney's ($765), add Ashley Pittman's rock-n-roll bangles from Stanley Korshak ($190-$395), and finish the look with uber-sexy platform heels by Nina for Dillard's ($99).
And remember, less is Moore when it comes to hair and makeup. Keep it simple to pull-off her understated but glam appearance.
Copyright FREEL - NBC Local Media