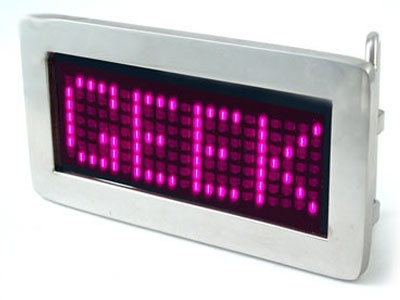 FASHION STATEMENT: When you want to shout out loud without saying a word, express yourself with the Scrolling LED Belt Buckle from ThinkGeek. Whether worn rodeo-style or placed in a prominent corner of your cube, this programmable "personal billboard" really makes a statement. Choose from blue, pink, red or white displays with adjustable speed and brightness. Find it online for $19.99 - $29.99.
MOVIE MAKER: "Do you flip?" You might not know it yet, but the Flip Mino digital camcorder is at the top of your holiday wish list. Featuring crisp video quality in a cute little pint-sized package, it's available in hip designs like the Scorpio II and Say Cheese. With one simple touch, record everything from school plays to practical jokes, then use FlipShare to edit, email, and customize your videos. Starting at $149.99; available online and at select retailers.
PREP SCHOOL: The Ninja Master Prep is a nimble kitchen helper that's two (or more) gadgets in one. Use it to chop veggies for recipes or salads, then, with a quick flip, pulverize ice and fruit (and maybe some vodka) into a delicious smoothie or cocktail. With dishwasher and microwave safe removable parts and a handy recipe booklet, it's a cool idea for dorms, bachelor pads and parties. Available online for $59.85.
Copyright FREEL - NBC Local Media