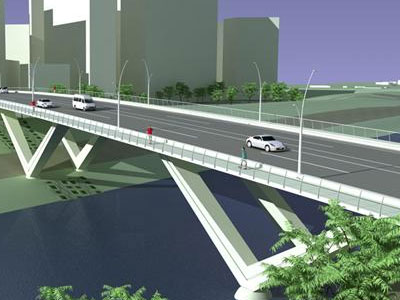 Fort Worth's Trinity River bridge plans were unveiled to the public on Wednesday.
The plans call for the creation of three bridges planners say will create a stylish entrance into the urban, waterfront community of Trinity Uptown.
"I am honored to have had the opportunity to design bridges for a community that truly embraces their Trinity River," said Miguel Rosales, lead designer of the bridges. "We hope that these designs captivate the community's desire for a unique bridge that attracts people to the river and cherishes the rich character and culture of the neighborhoods which they will connect."
City leaders say their plans are beautiful and budget-friendly with the costs projected at $65 million. One major goal is that the bridges – which will cross over the future bypass channel at White Settlement Rd., Henderson St. and Main St. – will provide a pedestrian-friendly experience and complement the iconic architectural components of the Cultural District and Downtown.
Construction on the Henderson Street bridge should begin in 2011 with the other bridges following. Completion of the three bridges is expected in 2015.