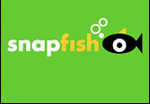 These last 2 days have been a free photo fiesta! Woohoo!
Today & tomorow (8/16 & 8/17), you can snag a FREE 8x10 photo collage from Snapfish. To get started, click here. If you haven't done so already, you will want to open an account & upload photos. Once completed, you can select the 8x10 photo collage and begin putting yours together.
When you're checking out, be sure to use promotional code: GRANDSHIP and you'll score a FREE collage and FREE shipping.
I'm thinking this collage, once framed, would be a great Christmas gift!
Enjoy!
Thanks to Common Sense With Money for the tip!