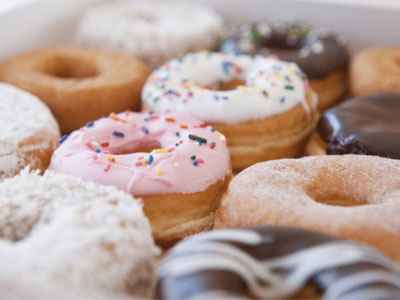 Today is the most delicious day of the year -- that's right, it's National Donut Day.
There should be plenty of donuts around you in the office, maybe in the car or on the couch. But don't let that stop you from grabbing some freebies.
The best deal out there appears to be a Krispy Kreme donuts. Though they only have a few North Texas locations, they are giving away a free donut at participating locations, with no purchase necessary, according to a post on their Facebook page. There is no mention on either their website or Facebook page about which locations are participating however.
All customers at Shipley Do-Nuts will receive one free glazed do-nut with their purchase -- though Shipley is a bit crafty and doesn't mention what you have to purchase to score your free treat. They are my personal favorite though -- see their website here. The offer is good until noon.
Dunkin' Donuts is offering one free donut Friday to every customer who purchases a beverage. Not a bad deal, and Dunkin' has more than a few North Texas locations. RSVP on Facebook or find out more information on their website.
Indepedent mom and pop donut shops may also be taking part in National Donut Day, so check your local merchants as well.
Bon Appétit.