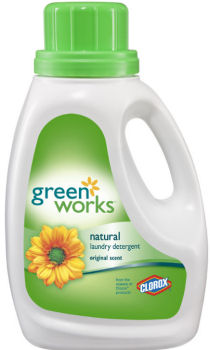 UPDATE: I've changed the title of this post to reflect "NOT". Boy was I off! The 90 oz bottle is on mark down to $11.99! Wowzers! While these coupons will land you a 50% discount, the final cost is still $6!
---
You may notice some hesitation on my part...maybe free?
Honestly, I'm not entirely sure what the going rate for detergent is these days. You see, I haven't purchased detergent in over a year..maybe closer to 2 years. I took advantage of a terrific deal at CVS way back when and thanks to my stockpile - I'm set.
But...I am going to check this one out for sure!
There is a $3 manufacturer coupon for Green Works laundry detergent here.
..and a $3 Target coupon here.
Which means a total of $6 off per 90 oz. (or larger) bottle. Possibly free? I'm not sure - but I'll let you know as soon as I find out.
In the meantime, print these babies before they're gone!