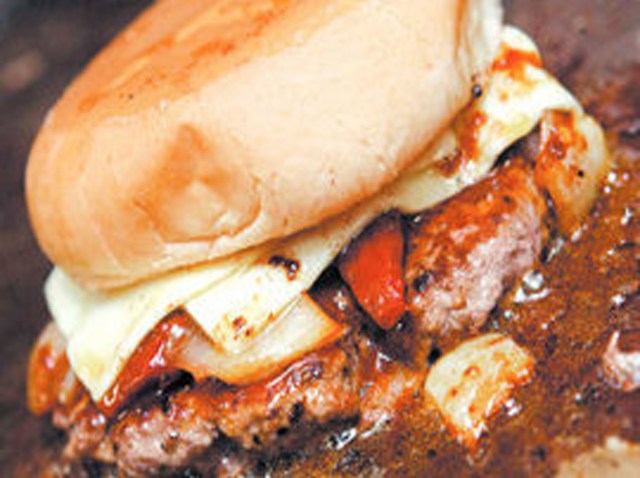 One telltale sign of a popular eatery is a line out the door come suppertime. Expect just that when looking for the red plywood shack known as Fred's Texas Café.
It sticks out like a rusty nail on Currie Street in the cultural district of Fort Worth.
"Fort Worth made Fred's the way it is," said owner Terry Chandler proudly about the dive/diner's reputation as somewhat of a Cowtown institution.
Named after the Chandler family's dog, Fred's is about as unpretentious as it gets.
The quaint diner's big schooners of icy-cold beer, tasty country cuisine and back patio fit for a party has kept guests coming back for years.
"The best part about coming to Fort Worth, when you come to Fred's you still feel like you're in the country. Everybody's somebody here on this patio … this is the best part about it," said regular Matt Blevins.
The food, however, is what most diners said they consider the best part about Fred's.
The Diablo burger (snag the recipe here), quail and eggs and ribeye pizza are three standout entrees meant to satisfy cowboys off the ranch or the "suits" stopping into re-fuel during their lunch break.
Chandler, aka "The Outlaw Chef," isn't afraid to put new fare on the menu that isn't typical of a country-style greasy spoon.
His travels while serving in the military have influenced his culinary approach.
"I would always try the various street foods from whatever country I was in -- Spain, parts of East Asia, and we try to recreate some of those things here at Fred's," said Chandler.
Depending on the day, diners will have the opportunity to eat some of the more creative, off-the-cuff entrees like those mentioned by Chandler.
What's next? Perhaps cowboy Carpaccio made from regional beef? Or maybe some ranch hand sushi tied together with seaweed rope? Who knows? The good thing about Fred's is Chandler is open-minded.
"I'm not above throwing a big ole pork T-bone on the fire and smothering it in some Thai green curry and serving it over rice."
Cowboy cookin' indeed.
Want to try your hand preparing one of Fred's signature Diablo burgers? Gourmet Yourself!
Fred's Texas Café
915 Currie St
Fort Worth, Texas
76107
817-332-0083