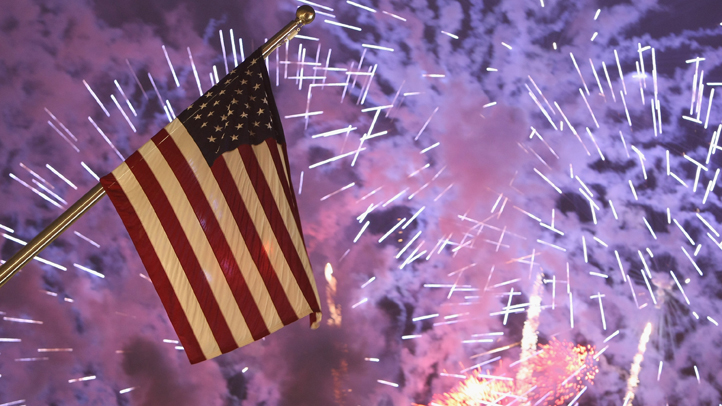 A big birthday is coming up and you're probably looking for fun ways to celebrate the special day with your family.
From spectacular fireworks shows to tried and true barbecues, there's plenty of family-friendly ways to celebrate the July 4th weekend in the metroplex.
Fort Worth's Fourth
When: July 4 at 4:30 p.m. Fireworks begin at 9:30 p.m.
Where: Trinity River behind LaGrave Field in Fort Worth
What: Free live music and family fun including pony rides, a cardboard slide derby, and water wars. Food will be available for purchase.
CANCELED: Old Fashioned 4th
When: July 4th at 6 p.m. Fireworks begin at 9:30 p.m.
Where: Meadowcreek Park in DeSoto
What: Due to Meadowcreek Park's location near a densely wooded area, the DeSoto Fire Marshal has postponed the joint DeSoto and Lancaster fireworks show. A celebration is still planned at the outdoor amphitheater located behind the DeSoto Public Library beginning at 6 p.m.

Fireworks at Arlington Highlands
When: July 4 at 7 p.m. Fireworks begin at 9:30 p.m.
Where: Arlington Highlands, 4000 Retail Connection Way, Arlington, TX
What: Free live entertainment by A Hard Night's Day and free face painting and sno-cones from 7 to 9 p.m. (First 2,000 sno-cones are free. They are $1 afterwards).
Denton Kiwanis Club Fireworks Show
When: July 4 at 5:30 p.m. Music begins at 6:30 p.m.
Where: UNT Fouts Field
What: The Denton Kiwani's Club hosts a night of live music by City Folk followed by an array of fireworks. The event is free but donations will be accepted before, during, and after the show.
Fair Park Fourth
When: July 4 at 4:30 p.m. Fireworks begin at 9:30 p.m.
Where: Fair Park
What: This event, presented by Friends of Fair Park, is the city of Dallas' official Independence Day celebration. The evening will include free and reduced admission to Fair Park's eight museums, Bellagio-style Esplanade Fountain shows, and live performances. Food will be available for purchase.
"Let's Roll...America"
When: July 4 at 9 a.m.
Where: Downtown Arlington
What: Arlington's 46th annual Independence Day Parade begins at the intersection of Mitchell and Pecan streets, parades through downtown, and ends right back where it started. The parade is expecting more than 50,000 spectators so get there early.
Addison Kaboom Town
When: July 3 at 5 p.m. Fireworks begin at 9:35 p.m.
Where: Addison Circle Park
What: Rated as one of the top places to watch fireworks in the country by USA Today, Kaboom Town is a 30-minute fireworks show in the metroplex like no other. Live entertainment and an air show will precede the fireworks.
Electric Theater
When: July 2-4 at 1 p.m.
Where: Museum of Nature & Science in Dallas
What: Want to beat the heat this July 4th weekend? The Museum of Nature & Science has indoor fireworks. The Electric Theater is an interactive lesson on electro-magnetism that concludes with a light show. The Independence Day presentations are free to members and general admission for non-members.
Lone Stars & Stripes Fireworks
When: July 3 and 4 following the last races which begin at 5 p.m.
Where: Lone Star Park in Grand Prairie
What: Two-days of thoroughbred racing and family fun such as a petting zoo, pony rides and bounce houses. Following the races, there will be a 20-minute fireworks display and live entertainment.
BigTop 4thFest
When: July 4 at 12 p.m.
Where: Bedford Boys Ranch Park
What: BigTop Celebration is an old-fashioned Independence Day Celebration with a circus themed twist. 4thFest includes a free concert, bounce houses, a variety of free family activates, festival-style food and, of course, a fireworks extravaganza when the sun goes down. 4thFest visitors can also take a dip in Bedford's Splash Aquatic Center for an additional fee.
Frisco Freedom Fest
When: July 2 at 4 p.m.
Where: Pizza Hut Park and Simpson Plaza, located in front of Frisco City Hall
What: Frisco Freedom Fest is a party in the heart of Frisco. The Taste of Frisco also returns this weekend with Frisco restaurants serving some of their most popular menu items. Freedom Fest will conclude with a 20-minute fireworks spectacle.
Fireworks over Lake Grapevine
When: July 4 at 9:30 p.m.
Where: Lake Grapevine and surrounding parks
What: The City of Grapevine will be shutting down Fairway Drive for their annual fireworks extravaganza. Admission is free at most viewing locations, although some parks along Lake Grapevine may charge a minimal admission fee.
Willie Nelson's Annual Picnic & Throwdown
When: July 4 at 11:30 a.m., first artist take the stage at 12 p.m.
Where: Billy Bob's Texas in Fort Worth
What: Willie Nelson's picnic is a Texas tradition that features a day full of country music performances. The picnic was recently revealed as a top destination for the 4th by Yahoo Travel. Tickets are $30 in advance, $35 at the gate, and are available through Ticketmaster or Billy Bob's box office.
Cowboys Stadium 4th of July Rally
When: July 4 at 12 p.m.
Where: Cowboys Stadium
What: Never been to the Cowboys Stadium? This year's 4th would be a perfect time to go. Cowboys Stadium is hosting a Texas-sized Fourth of July Rally for the whole family. The event will include alumni player autograph signing, Dallas Cowboys Cheerleaders appearances and photo opportunities. Everyone wearing patriotic clothing will receive $5 off the price of a stadium tour. Parking will be free with the purchase of a tour ticket.
Picnic in the Park
When: July 2 at 12 p.m.
Where: Firewheel Town Center in Garland
What: Shopping more your style than fireworks? Firewheel Town Center will be hosting a picnic offering area families an opportunity to play as well as enjoy live music , all located near the open-air regional shopping mall.
Commemorative Air Force Squadron
When: July 2, 3, and 4 from 9 a.m. to 5 p.m.
Where: Meacham Field in Fort Worth
What: The Commemorative Air Force B-29/B-24 Squadron will be conducting flight experiences for $595 to $1495, depending on seat location. For those not interested in flight experiecne, warbirds and vintage aircraft will be on display. There will be a $5 fee to enter the display area.