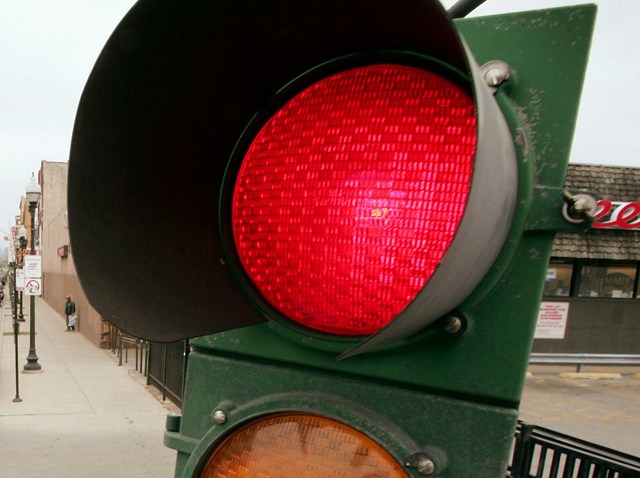 Drivers making left turns at busy intersections across Texas could get some colorful, flashing help to stay safe.
The Federal Highway Administration wants cities and states to begin replacing solid green lights with flashing yellow arrows, the Fort Worth Star-Telegram reported Monday.
A solid green light sometimes confuses drivers into thinking they always have the right of way, in spite of other traffic. The flashing yellow arrow makes it clearer that drivers must proceed cautiously before turning left, federal officials say.
A pilot project is planned for Arlington, host of Sunday's Super Bowl at Cowboys Stadium between the Green Bay Packers and the Pittsburgh Steelers, but not until long after the game is in the sports history books.
The pilot project will involve selected intersections, said Paul Iwuchukwu, Arlington traffic engineer. The most likely candidates are major north-south routes, such as Collins and Cooper streets.
Arlington, a city of nearly 400,000 located midway between Dallas and Fort Worth, is a tourist draw along Interstate 30 as the home of the Dallas Cowboys, Texas Rangers Ballpark, Six Flags Over Texas, and numerous other attractions and businesses.
Motorist wanting to turn left would first get a green arrow, as they currently do, giving them the right of way. Under the plan, the green arrow would switch to a steady yellow arrow, then a flashing yellow arrow, giving motorists permission to turn left after yielding to oncoming traffic.
The flashing yellow arrow would then change to a steady yellow arrow, and then a steady red arrow, when turning is no longer permissible.
Arlington has 340 signalized intersections, and about three-fourths of them could be candidates for a flashing yellow arrow, according to Iwuchukwu.
No total cost estimate was available, but a typical traffic intersection device with five signal heads costs around $700, he said.
Copyright AP - Associated Press