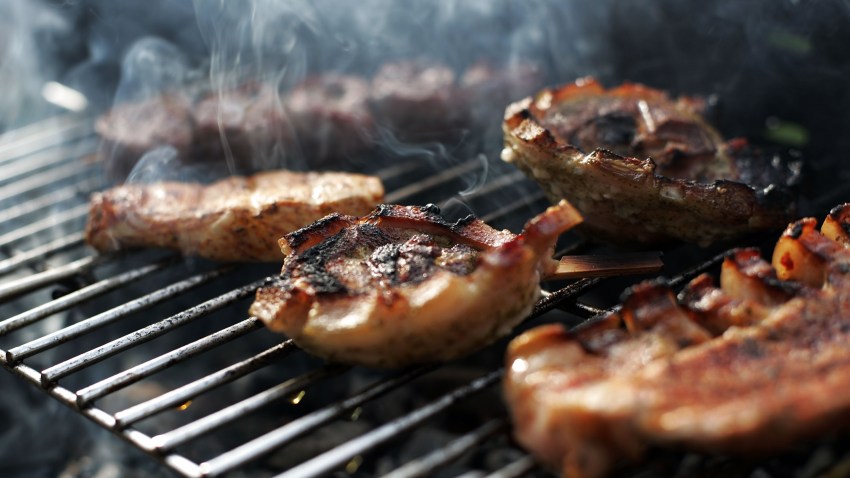 Let's call this Barbeque 102.
As co-owner and chef of Dallas' Smoke Restaurant, Tim Byres lives for the thrill of the grill. Sourcing all-natural and local ingredients whenever possible, he treats his guests to some of the best barbeque in town.
Not to mention smoked duck breast, brined turkey and beer-can chicken to boot.
Who better to help you take your outdoor cooking repertoire to the next level? Nobody, that's who. Beyond basic burgers and dogs, Byres' expert tips will have you grillin' like a pro. Let the flames begin!
Five Rules: Advanced Grilling and Smoking
1. Chile Today, Hot Tamale
"I aspire to cook from scratch whenever possible," Byres explains. This philosophy extends to his use of homemade chile powders and purées. To customize flavors for your own at-home barbeque, he recommends starting with the following readily available dried chile varieties:
Ancho: Dried Poblano
Pasilla: Dried Chile Negro
Guajillo: Dried sweet, red chile
Chipotle: Spicy smoked Jalapeño
Roast your chiles in a single layer in a 450˚ oven for about one minute, until puffed and aromatic. Cool, then remove stems and seeds. Create a purée to add to sauces and marinades by blending the cleaned and roasted chiles with a small amount of water in a blender. For a homemade chile powder, pulse the prepared chiles in a coffee grinder.
2. Balancing Act
Byres' second key to barbeque bliss is the balance of sweet and sour in your sauces. To achieve a professional flavor profile, he recommends sweetening with unrefined brown sugar or molasses. And when it comes to the tangy, he suggests shelving your vinegar in favor of tomatillos for some "local southwestern flavor."
3. A Salty Soak
Next up, according to our expert, "[Brining] adds flavor and maintains moisture in meats that have a tendency to become dry when overcooked." To that end, Byres never barbeques pork or poultry without giving 'em a good soak in a basic brine of one gallon of water, one cup of Kosher salt, and ½ cup of sugar. (Add fresh vegetables, herbs or spices, if desired.) The chef also notes, "The longer in the brine, the deeper the flavor the meat will take on."
4. Here's The Rub
When barbequing large or bone-in cuts of meat like ribs or brisket, Byres knows that a dry rub is essential. Combine homemade chile powder, ground spices, sugar and salt to taste and apply liberally to the entire exterior of the cut. Then, he directs us to cook brisket for "about an hour per pound, under dry indirect smoke at a steady temperature of 190˚."
5. Wood Is Good
Now that we've puréed and sauced, rubbed and brined, it's finally time cook! How does our expert heat things up?
"I try to cook exclusively with wood and not gas," says Byres. "This is not a snob thing; it makes a difference across the board. I think the coolest thing in barbeque is learning how to control the fire for long periods of time - even overnight - with no electricity or gas."
When smoking meats over wood, Byres recommends building your fire, then pushing the coals to the edges of the box. Cover these "banked" coals with ash, then place a log on to smolder. Use the coal as your heat source instead of the wood. For grilling, start your fire with charcoal, then add wood with the lid open to build a large, hot fire. Spread the wood and fire evenly for even cooking.
Hungry? Good! Now get grillin'.
Copyright FREEL - NBC Local Media