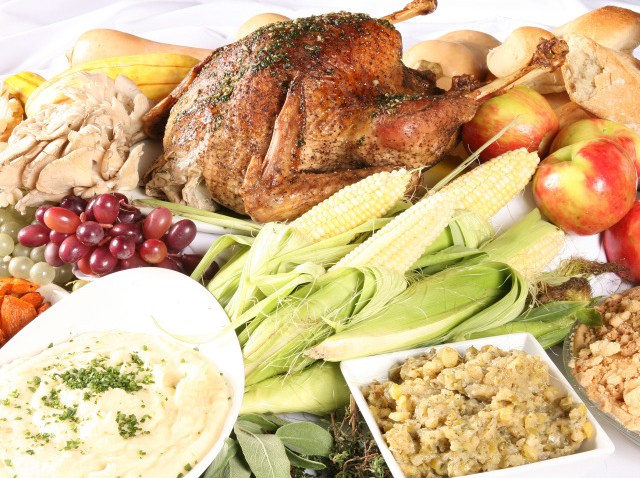 Two weeks from today, we'll all be sitting down to a very special annual meal.

These days, Thanksgiving means many things to many people – great football, all-you-can-eat pie and gearing up for Black Friday shopping, just to name a few. But as we all know, this holiday is truly a celebration of community.

On the first Thanksgiving, a shared meal represented friendship and the promise of many fruitful harvests to come. Going local for your family's feast is a wonderful way to get back to the roots of this tradition.

To that end, we've compiled a handy expert tip sheet to help you source everything from main dish to sides to dessert. Read on for the delicious details.

Five Rules for A Local Thanksgiving Feast

1. Think outside the bird
You've got to be up with the chickens to get your paws on a locally-raised turkey 'round these parts. Truth is, many are already spoken for. This could be a great opportunity for creativity, however, if you go with beef, pork or even chicken instead. Check out the Texas Meats Supernatural booth on Fridays and Saturdays at the Dallas Farmers Market (Shed 2) to see what's in store from a trio of area farms.

2. Pick home-grown produce
Finding local veggies for side dishes, on the other hand, is a piece of cake. For example, Vince Valverde of Whole Foods Highland Park pointed out that his store is currently offering local zucchini, green beans, yellow squash, okra and (yeah!) yams. (No word on local marshmallows.)

3. Sweeten the deal
Pastry chef Rhonda Ruckman of Zanata and Square Market in Rockwall knows just what she'd bring to a local Thanksgiving feast. "Texas pecans are very nice. I would make Texas pecan pie with Steen's Cane Syrup," she says. Steen's is actually local to Ruckman's native Louisiana, but that's close enough for us!

4. Pour a Texas wine
Merrill Bonarrigo of Messina Hof Winery & Resort in Bryan offers this advice on choosing a wine for your holiday meal: "The first rule is to serve whatever wine you like with whatever kind of food you like. Some people think the 'wine police' are out there watching you but, trust me, they're not." Smart lady! Messina Hof wines are widely available in the Metroplex at grocery and liquor stores. More specifically, Tina Marken of Brennan Vineyards in Comanche recommends Viognier with turkey and cornbread dressing. Ask for Texas versions of this floral white from Brennan and Becker Vineyards.

5. Feather your nest
Decorating for the big day doesn't have to mean spending an arm and a leg on flowers from who-knows-where. In fact, a beautiful centerpiece can start with a trip to your own backyard. Check out last week's Five Rules for some great fall decorating tips and have a Happy (Local) Thanksgiving!
Copyright FREEL - NBC Local Media