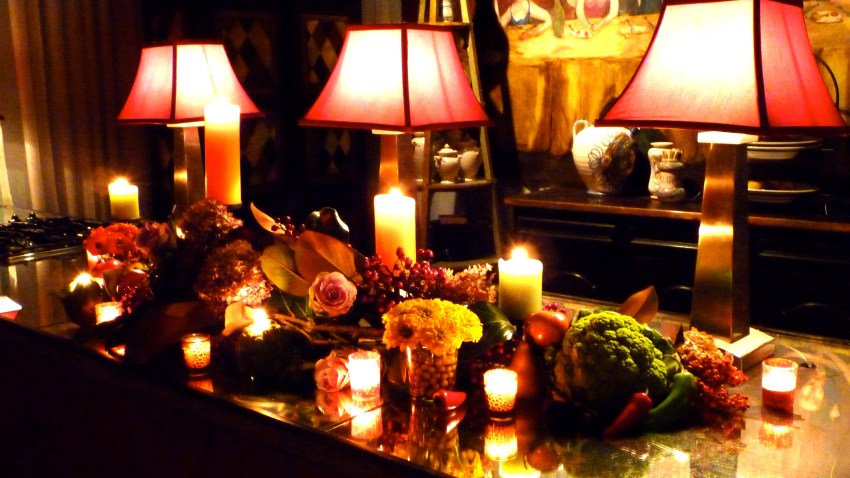 'Tis the season to pull out all the stops.
Fall dinners, parties and gatherings call for a little extra imagination when it comes to dressing up your table. But contrary to popular belief, a beautiful centerpiece doesn't have to break the bank.

Luther Menke of Village Garden & Gallery has decked out some of the most stylish spaces in town with his floral fantasies. Today, he'll share a few of his favorite tips for setting your own fall table with unexpected and inexpensive elements.

Five Rules for Fantastic Fall Tables:
1. Keep it simple.
Grand and gorgeous doesn't have to mean difficult and daunting. "Make it easy on yourself," our expert says. "Use the resources that you have available." If you have lots of candles, for instance, design your centerpiece around candles. You can even go shopping in your own backyard – but we'll get to that later.

2. Color is key.
Menke is mad for color, specifically orange, red, browns, greens and eggplant for fall. He recommends experimenting within this autumn palate, combining unexpected hues and adding color with elements other than flowers. (Notice the mismatched pillar candles in the arrangement above.)

3. Use your natural instincts.
When it comes to celebrating nature, think outside the box - and inside your fence. For today's stunning centerpiece, Menke started with a magnolia branch and zinnias (a common flower bed find). He adorned the branch with faux berries and placed the blooms in glasses filled with water and chinaberries from a tree in front of his studio. Smart and chic!

4. More is more.
Menke's favorite rule? "Never think you've done too much!" The harvest season is all about abundance, after all, and overflowing baskets, bowls and cornucopias are de rigueur. Today's tablescape goes to show that a healthy dose of variety doesn't have to come off as kitsch.

5. Never underestimate the power of surprise.
Our expert knows that an attention-getting element can start a "chain reaction" of admiration for your efforts. A hollowed artichoke used as a votive holder, for example, is a sure-fire conversation piece. The addition of fruits, peppers, green cauliflower and kale to an arrangement are another unique way to celebrate the bounty of fall.

With special thanks to Reg Land and 7 Senses.
Copyright FREEL - NBC Local Media