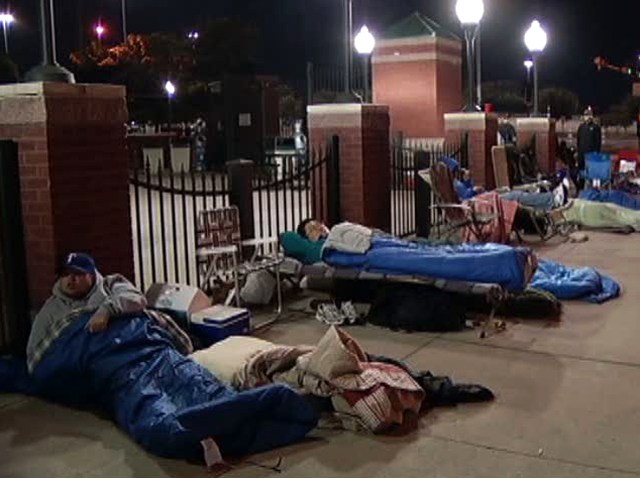 No one knows which teams will play in the World Series, but tickets were already on sale Sunday for a series with the Rangers.
The team discouraged fans from camping out for tickets to the three games that will be played at the Rangers Ballpark in Arlington if Texas wins the AL championship. But with only 100 vouchers available ahead of time to hold a place in line, dozens made a night out of it.
Dozens of die-hard fans never went home after Saturday's Game 2 of the ALCS against the Yankees and lined the sidewalks outside of the ballpark. Some stayed up all night, while others dozed off in sleeping bags and tents.
"I just set up camp, got my chair (and) got my DVD player," said Eduardo Garcia, who was wrapped in a blanket.
By sunrise, the line wrapped around the ballpark, and groups were cheering for the home team.
Once the box office opened, families split up to get the maximum number of tickets allowed -- eight per person per game. Paul Francis even lost his shoe while rushing to the ticket window.
"The Rangers are going to win this series, and I'll be here for this game," he said.
Not everyone got the seats they wanted, and some will have to stand for the chance to be a part of history. The Rangers are one of only three current clubs to never play in the World Series.
"I am buying tickets for a game that will happen," Colleen Durkin said. "I believe it will happen. I have been believing it will happen for too long to turn back now."
This postseason is already a first for the Rangers -- the team had never before advanced to the ALCS.
And Arlington will experience another sports first down the street in February, when Cowboys Stadium hosts the Super Bowl.
World Series tickets go on sale at the box office and by phone again on Monday from 9 a.m. to 6 p.m. Tickets are also available online.
Standing-room tickets are $50. Seats range from $75 to $250. If the Rangers fall to the Yankees in the ALCS, ticket holders will get a refund.