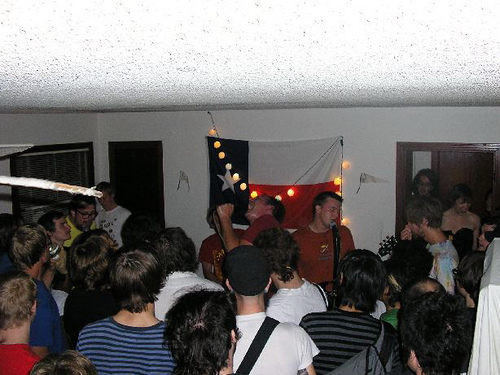 DENTON DONE IT: Want to be a part of the 15 minutes of fame Denton has been experiencing since before you were born? Well jump onto the bandwagon and go to a house party. What's that you say? A house party? Yes, the house party -- Denton's most precious natural resource. Tonight Paste magazine is tapping that proverbial asset. In town for 40 Nights of Rock, a traveling blog showcasing rock across the nation, they are showcasing the best lil' songwritin' city in the Southwest tomorrow at the Schoolhouse which sits at 914 Bolivar St. Dear Human, Manned Missiles, Doug Burr, Shiny Around the Edges, Kaleo Kaualoku (of Spooky Folk) and Record Hop bring it for the home team. Oh yea, in the spirit of the town, this is a BYOB show. If you plan on buying anything cheap and canned you better get to Midway-Mart early.
BLOW A LITTLE CASH: Let's be clear about something, wind power is awesome. How do you think you're sitting here reading this right now? If it weren't for Chris Columbus...well wait let's back that up...if it weren't for the dynamic duo that invented the boat and then the sail to go with it, you would pretty much still be stuck in your respective old-world country wondering how (or at least waiting for someone) to harness the power of wind. Fortunately for you, for us and for West Texas, we are past all that. WAY past it. Don't believe us? Then go check out the WINDPOWER 2010 Conference & Exhibition. It's mostly an invite-only affair, except for tomorrow 2:00PM to 4:00PM for $5 cash when it will be open for public gawking at how awesome all the invitees ideas are. P.S. Check out the video of some of the wicked windmills on the left.
OMGTMZ!!!: "What is art if not an exploration of r deepest fears & ennui with r culture...esp when we have more $$, drgs and access 2 s**t like helicopters (cos we slept in - TRAFFIC!) then we know what 2 do with" Yea we just tweeted that...and shame on you for reading it and invading our privacy! Thank God Courtney is Here to give us as celebrities the fair shake we deserve as we navigate the shark infested waters of social networking. Cos we were told there would be photos only on the red carpet we have decided to have her host the event at Mokah Art Gallery from 10:00AM to 4:00PM.
Copyright FREEL - NBC Local Media