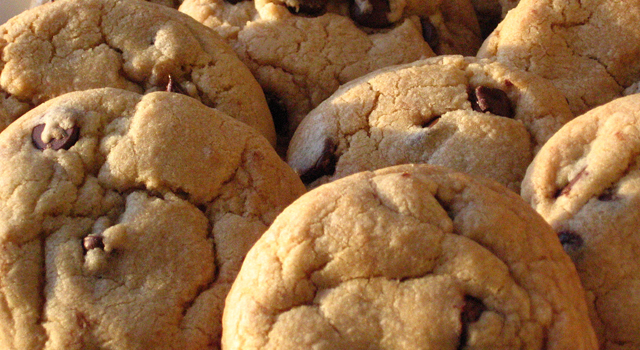 With Halloween in the rear view mirror, baking season is upon us. Between now and the end of the year, we'll all be called on to bring a batch of something-or-other to a family get-together, class party or office function.
But everyone's short on time and money these days, and let's face it – nobody does the Martha Stewart thing like, well, Martha. No worries! We've got your sweet cheat sheet right here.
Just start with a bag or a box (we won't tell) and money-saving "homemade" goodness is as easy as counting to three.
1. Spend a little, save a lot.
We did the math (believe it or not), and if you were to stock up on all the supplies necessary to bake homemade sugar cookies from scratch, your wallet would end up about $11 lighter. A bagged mix and the necessary add-ins will only run you about half that.
Boxed brownie mix is also a money saver, to the tune of about $6.
But here's a word to the wise: Our (totally unofficial) taste testers could usually tell the dif between the name brands and the store brands in this section of the grocery store. We recommend shelling out a little extra dough for the big names. Among our faves were Betty Crocker Cookie Mixes (about $2 each) and Ghirardelli Brownie Mixes ($2-3).
2. Sweeten the deal.Once you've picked a mix, use a little imagination (and the contents of your pantry) to whip up something extra-special. For example, try dolling up a batch of basic sugar cookies with the following:
- One handful each chocolate chips and dried cherries or raisins
- Your favorite candy bar, chopped
- Food coloring (stir into wet ingredients before adding dry mix)
You could also drizzle finished cookies with melted chocolate chips, or sandwich two cookies together with melted chocolate, Milano-style. For more cookie mix recipes, check out Betty Crocker's collection here.
When it comes to brownies, you might try this oh-so-gourmet Espresso Brownie recipe from Giada De Laurentiis of the Food Network, which begins with a mix from a box. (Pretty nifty for impressing the in-laws!)
3. Presentation is key.
Last but not least, finishing touches make all the difference when it comes to showing off your sorta-homemade goodies. For best results, cool cookies completely before wrapping and keep in mind that the key to perfectly portioned brownies is a stint in the fridge before cutting.
Once your goodies are good to go, wrap 'em in colored plastic wrap or printed plastic bags for kids. To wow your co-workers, try covering a shirt box in festive paper (top and bottom separately) to transport your treats. Or line a basket with tissue and fill to the brim for a package that doubles as a centerpiece. Sweet!

Copyright FREEL - NBC Local Media