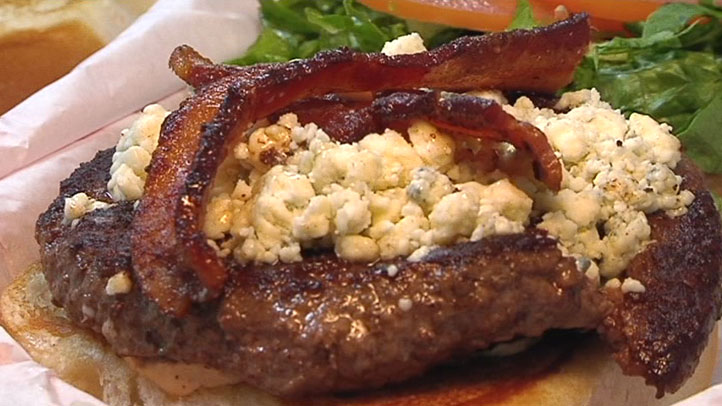 If a hearty burger and a healthy helping of sides sounds good to you, Dutch's in Fort Worth is ready to take your order.
Dutch's knows that to make a good burger, it's all about what's sandwiched between the bread.
General Manager Kay Greenlee knows the value of getting it right. "I was a school teacher. I taught 4th grade in Crowley ISD for 21 years," she told us.
Last seen at an age when burgers were a big deal at lunchtime, Greenlee now sees some former students as they try to make a living. "As a matter of fact, I've hired several of my students that I've had," she says.
And to customer James Voelker, they make a tasty burger. "I love Dutch's burgers. They are my favorite by far."
In fact, the bacon and bleu cheese burger is known around Texas. "It was voted by Texas Monthly as the number eighth best burger in the state," Greenlee explains.
Whether the staff is making the signature "Dutch Burger" with most of the trimmings, or another menu option, when you order at the Fort Worth location you're feeding hunger with a little bit of history.
When the place first opened in 2007 they named it after Leo "Dutch" Meyer -- TCU's football coach from 1934-53. In the 1930's, Dutch led his team to two national championships.
He's a legend just a little more famous then one of the restaurant's much talked about temptations.
"Their onion rings here are completely in a class by themselves," explains customer Punch Shaw. "They are very special concoctions."
Shaw eats at Dutch's two to three times a week. "Yep…that's a good percentage of my weekday lunches for sure."
It's not just the patty or the sides that get praised.
"Their buns just taste different," customer Marissa Taccia said. "They tend to be sweeter and more like tasty and their burgers are really big so I like them."
The buns are made in Houston and shipped to Dutch's two to three times a week.
It's a special service reminding customers that here life is best enjoyed when history is served with a slice of beef.
Dutch's Hamburgers
3009 South University Drive
Fort Worth, TX
(817) 927-5522