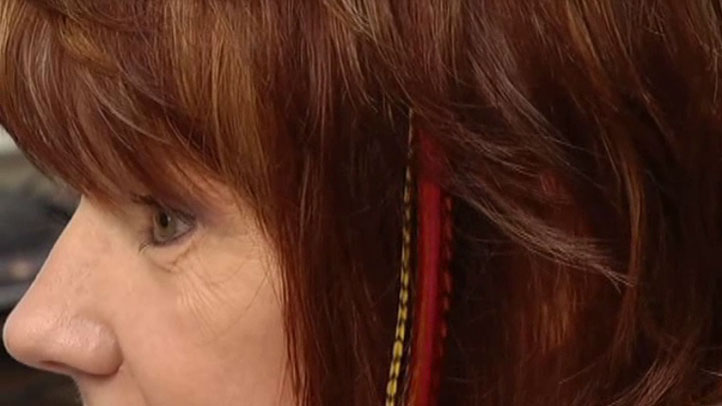 Celebrities such as Steven Tyler and Miley Cyrus aren't the only ones flocking to salons for trendy feather hair extensions. But are they appropriate for the office?
Micaela Soto, a stylist at Dallas salon Philip K. Thomas, attaches feathers to her clients' hair with small metal clips.
The feathers, which are harvested from a specific rooster, are used for bait in fly-fishing.
Paul Bazell, of Adviant, a consultant for human resource departments, said people considering hair feathers should do their research.
"My first response would be, 'Let's go check your employee handbook,' which usually has some mention in there of a dress code or a dress policy," he said.
However, the wording is usually vague, such as "appropriate business attire required."
He said that hair feathers are probably more appropriate at a salon but suggested that those who work in a corporate office should just ask.
"Ask your HR department, 'Hey, I'm thinking about doing this. Is it going to rub anyone the wrong way?" Bazell said.
Soto said some of her clients are a little hesitant to get feathers because they are worried what their bosses will say.
One client, Mandee McAlister, waited a month before getting her hair feathers.
"Well, my clientele, being attorneys and paralegals and legal secretaries -- I wasn't sure how they were going to receive it," she said.
But two months later, she was back in the salon to get her yellow and red plumes replaced.
"The vice president of my company -- we were in a meeting, and she said, 'Oh my gosh, I like those. I've never seen those.' So if she approves, I guess it's OK," McAlister said.
But if that ever changes, she can pluck them out with a set of needle nose pliers, she said.
Fishing suppliers have reportedly already run out of stock of the feathers because of their popularity in salons like Phillip K. Thomas. Stylists say people who have bought feathers may want to recycle them.