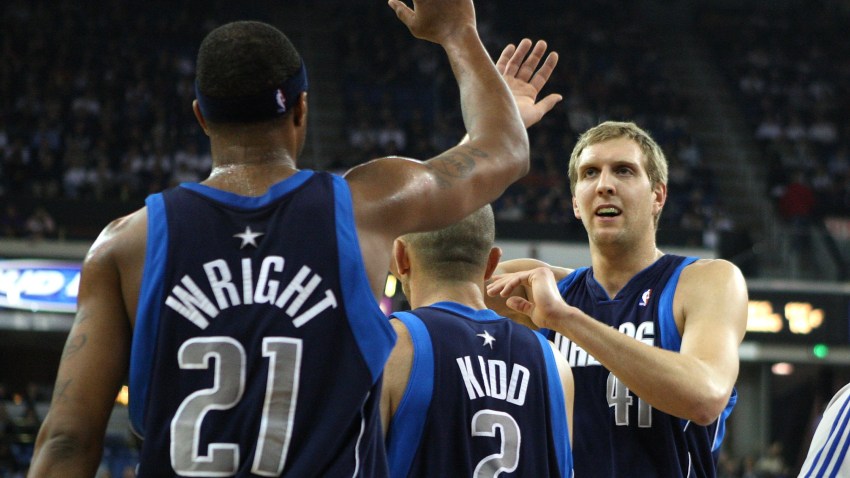 Well for all the MFFL's, don't be shocked, but Dirk Nowitzki and Jason Kidd are not among the most 15 popular NBA jerseys.
Kobe Bryant top back the #1 spot from Kevin Garnett as the top moving jersey.
And if you want to wear the hot fresh NBA gear....the Mavs aren't the top choice according to the latest numbers by the NBA. The numbers are bases on nbastore.com and the NBA Store in New York City.
Top 15 Most Popular NBA Jerseys: Top 10 Most Popular Team Merchandise

1. Kobe Bryant, Los Angeles Lakers 1. Los Angeles Lakers
2. LeBron James, Cleveland Cavaliers 2. Boston Celtics
3. Chris Paul, New Orleans Hornets 3. New York Knicks
4. Kevin Garnett, Boston Celtics 4. Cleveland Cavaliers
5. Allen Iverson, Detroit Pistons 5. Chicago Bulls
6. Dwyane Wade, Miami Heat 6. New Orleans Hornets
7. Paul Pierce, Boston Celtics 7. Phoenix Suns
8. Nate Robinson, New York Knicks 8. Miami Heat
9. Pau Gasol, Los Angeles Lakers 9. Detroit Pistons
10. Dwight Howard, Orlando Magic 10. San Antonio Spurs
11. Derrick Rose, Chicago Bulls
12. Ray Allen, Boston Celtics
13. Steve Nash, Phoenix Suns
14. Shaquille O'Neal, Phoenix Suns
15. Carmelo Anthony, Denver Nuggets