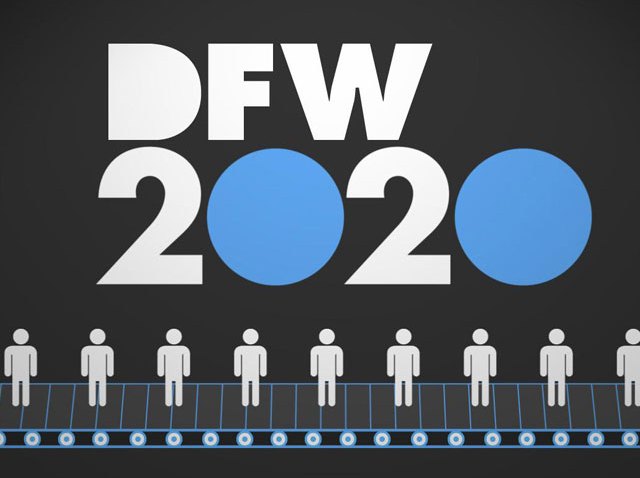 Our history books are filled with the stories of old -- past successes, explosive developments and heartbreaking tragedies litter our pages and the annuals of yesterday. But throughout the hardship, mankind had endured and grown stronger. We have become better, many would argue, than the people we once were.
Today, our children know they can survive diseases like cancer; today, we can communicate instantaneously around the world and see events in better clarity than ever before; today, a black man can lead the nation instead of sitting at the back of a bus.
These are the stories of our past, the successes we've achieved from years of hard work throughout the nation. But what will the story of North Texas look like? In ten years, will we be a beacon for business? Can we overcome our troubles with transit? Will we be known as a highlight in the nation for fashion or art? Can we continue the expansion of our small towns into booming cities and add them to the millions of people expected to flood into North Texas over the next decade?
We hope to answer these questions, and many more, in this series. As we gaze into our crystal ball, we also rely on the predictions of prognosticators heavily involved in building our future to form a unified picture of our area in the year 2020.
Unfortunately, we can't actually see the future -- but with this series, we hope to give you a glimpse far ahead into what we expect from the next decade and what we hope North Texas to be.
In 1962, a president who would become invariably linked with Dallas, spoke of going to the moon. With wild, unbridled encouragement, President John F. Kennedy elated a nation with his words on our then burgeoning space program while asserting to the world that America was on pace to accomplish something fantastic. We, too, believe North Texas can accomplish something fantastic, though our optimism is tempered by analysis of what we can see is coming to our area.
At worst, we hope to cement the ideas you already have heard about -- confirming the concepts you already know. At best, though, we hope to inspire you to see the future where we will live.
This is not just the way it is -- this is the way we hope it may be.
-- Greg Janda,
Features and Lifestyle Editor
NBCDFW.com
How Big Will We Be?
The "big" in "Big D" will get a lot bigger in the next decade, experts agree. The only question is by exactly how much. Click here to read more.

How Will We Get Around?
As our region continues to grow, transportation will need to bridge the growing gaps between where North Texans work, live, and play. Click here to read more.

Picture Downtown Subway Stations
Dallas city planners picture a future with subways, streetcars, and pedestrian improvements to link the neighborhoods of Big D. Click here to read more.

What Will We Wear? (Web Exclusive)
We explore what we'll be wearing, buying, and drooling over in the over the next decade's fashion. Click here to read more.

Where Will We Grow?
Celina's landscape of ranches and farmland could have been almost any city in Collin County 15 years ago. Now, it's poised to be the next Frisco and Plano. Click here to read more.

How Will We Teach?
It's difficult to predict how schools will change in the next ten years. Many districts have five year plans, but a decade is tough to forecast. Click here to read more.

What Will We Build? (Web Exclusive)
Green construction, urban sprawl, and bold developments in the suburbs will all be in the cards for construction in the next decade. Click here to read more.

How Will the Arts Develop? (Web Exclusive)
Musicians, artists and their patrons could make DFW a sought-after, sustainable region by the year 2020 if they channel their passions toward a greater good. Click here to read more.

Video: Pat Green's Predictions
Country superstar Pat Green gives us his outlook on the national and local music expectations ten years into the future. Watch his predictions here.

Will We Be a Purple State?
Will Texas be a blue state by 2020? Depends on who you ask. Click here to read more.

How Will We Work?
Using technology, culture, and the bright young minds of entrepreneurs, DFW in a decade will be the place where business gets done. Click here to read more.

How Will DFW Airport Change? (Web Exclusive)
By 2020, transportation to and from DFW airport won't be the only thing improved at the airport. Click here to read more.
Video: 2020's Movers and Shakers
Who will affect our area in the next decade? We asked two magazine editors to highlight their picks. Click here to watch their picks.

Gallery: A Look At Tomorrow
We showcase the concepts and plans for the structures and locations we may all see by 2020. Click here to see more images.