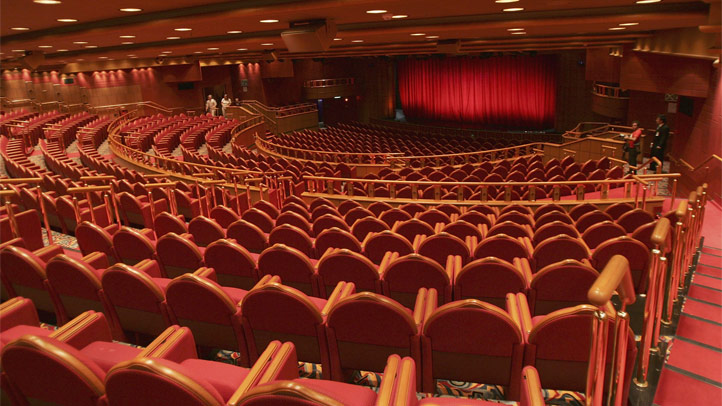 Drama, dancing and music galore are in store this Fall for audiences young and old.
Here's a look at the plays and musicals local stage theaters are producing in the Dallas-Fort Worth Area.
Click on the link to jump to theaters in that area: Dallas County | Tarrant County | Denton County
Dallas Theater Center
2400 Flora Street
Dallas, TX 75201
Official Site: http://www.dallastheatercenter.org/
The Tempest
Sept. 9 through Oct. 9
Shakespeare takes Dallas by storm in his beloved final play with unique staging that transports you deeply into the middle of the spectacle, music and dance. Immortal themes such as the power of forgiveness and the bond between parent and child. Cast includes the Brierley Resident Acting Company and actors from Southern Methodist University's MFA program.
Winspear Opera House
2403 Flora Street
Dallas, TX 75201
Official Site: www.dallasopera.org
HAIR
Sept. 20 through Oct. 2
The story of a group of young Americans searching for love and peace during the Vietnam era, HAIR is a timeless portrait of a movement that changed the world. Its groundbreaking rock score paved the way for some of the greatest musicals of our time. Now, the 'Age of Aquarius' dawns again in this jubilant new production directed by Diane Paulus. Overflowing with the spirit of progress and hope for a better world.
Lucia di Lammermoor
October 21 through November 6
Based on an epic 19th century Scottish romance by Sir Walter Scott and containing several of the most thrilling moments in all of opera, Lucia di Lammermoor propels you into a world where women are reluctant pawns in a dynastic quest for powerful family alliances. Sung in Italian with English translations projected above the stage.

Music Hall at Fair Park
909 1st Avenue
Dallas, TX 75210
Official Site: www.liveatthemusichall.com
West Side Story
Oct. 4-23, 2011
More than fifty years ago, a show about New York City changed musical theater forever. Now, it's coming home to make history once again. From the first notes to the final breath, West Side Story is one of the most memorable musicals and greatest love stories of all time. Arthur Laurents' book remains as powerful, poignant and timely as ever.
Dallas Puppet Theater
3905 Main Street
Dallas, TX 75226
Official Site: www.puppetry.org
Little Red Riding Hood
November 4 through 6, and 18 through 20, 2011
The theater will put on a musical production of the beloved children's tale. Cheer the here and boo the villain in the story of a wolf who will stop at nothing to get the Little Red Riding Hood.
Majestic Theater
1925 Elm St.
Dallas, TX 75201
Official Site: http://listings.guidelive.com/z/dallas-tx/majestic-theatre--venues--35134
The Screwtape Letters
Nov. 19, 2011
The Screwtape Letters, the provocative and wickedly funny theatrical adaptation of the C.S. Lewis novel about spiritual warfare from a demon's point of view, is back by popular demand.
Contemporary Theatre of Dallas
5601 Sears St.
Dallas, TX
Official Site: www.contemporarytheatreofdallas.com
Cheaters
Through Sept. 25
The outrageously funny comedy "Cheaters," written by Michael Jacobs, is about Allen and Michelle, who have been living together for eighteen months. Michelle thinks they should marry; Allen isn't so sure. When Allen and Michelle's parents decide to meet the young lovers over dinner it's suddenly everyone for himself in this wild, rollicking look at love and romance.
Irving Arts Center, Carpenter Performance Hall
3333 N. MacArthur Blvd.
Irving, TX 75062
Official Site: www.irvingartscenter.com
Gypsy
Sept. 9 through Sept. 18
Presented by Lyric Stage (www.lyricstage.org), Gypsy has been referred to as the greatest American musical by numerous critics and writers including Ben Brantley and Frank Rich of The New York Times. Rich calls it the American musical theatre's answer to King Lear.
Casa Manana
3101 West Lancaster Avenue
Fort Worth, TX 76107
Official Site: www.casamanana.org
To Kill A Mockingbird
Sept. 24 through 30, 2011
Based on the Pulitzer Prize-winning novel by Harper Lee, follows the journey of Jem and Scout Finch, whose father, Atticus, has been appointed to defend a black man unjustly accused. As the trial progresses, the children witness the moral and societal issues that plague their town. Presented in partnership with Dallas Theater Center, To Kill a Mockingbird is a great reminder of the power of tolerance, courage and justice.

Oliver!
October 14 through 30
At Casa Mañana's Children's Theatre, the timeless tale of Oliver Twist comes to life on stage in the hit musical Oliver! Join little Oliver on the colorful but perilous streets of London, as he meets the Artful Dodger and Fagin's gang of young pick-pockets in the search for a family to call his own. Based on the Charles Dickens novel, this beloved story features classic songs including "I'd Do Anything," "Where is Love?" and "Consider Yourself."

Bass Performance Hall
555 Commerce Street
Fort Worth, TX 76102
Official Site: www.basshall.com
The Wizard of Oz
Sept. 30 through Oct. 2
There truly is no place like home as the wonderful Wizard Of Oz twists its way to a city near you! The entire family will be captivated as they travel down the Yellow Brick Road and beyond with Dorothy, Toto and their friends in this lavish production featuring breathtaking special effects, dazzling choreography and classic songs.
The Midtown Men
October 26 at 7:30 p.m.
The Midtown Men is a four-piece singing group comprised of four original cast members of Jersey Boys, the wildly popular Broadway musical based on the career of pop group Frankie Valli & The Four Seasons. The Midtown Men consists of Tony Award-winner Christian Hoff, Michael Longoria, Daniel Reichard and Tony Award nominee and onetime North Texan J. Robert Spencer. The group is touring behind its recent debut album, The Midtown Men: Sixties Hits, which features the Men tackling some of their favorite songs from the 1960's, including "California Dreamin'," "Happy Together" and "Up on the Roof."
Hip Pocket Theatre
1950 Silver Creek Rd.
Fort Worth, TX 76108
Official Site: www.hippocket.org
The Butterfly's Evil Spell
Through Sept. 25
By Federico Garcia Lorca, the play is a comedy of angels and insects filled with tender and ingenious poetry.
Jubilee Theater
506 Main Street
Fort Worth, TX 76102
Official Site: www.jubileetheatre.org
Topdog/Underdog
Sept. 30 through Oct. 30
Two brothers, Lincoln and Booth, after being abandoned by their parents, have had to depend upon each other for survival since they were teenagers. The brothers struggle to make a new life for themselves, while competing against each other, vying for control, biting at each other for the role of Top Dog.

Stage West Theatre
821 W. Vickery Blvd
Fort Worth, Texas 76104
Official Site: www.stagewest.org
Jeeves in the Morning
Through Sept. 25
Jeeves in the Morning is another of the wonderful (mis)adventures of Jeeves and Wooster, written by P. G. Wodehouse, and adapted for the stage by Chicago's Mark Richard. Jeeves is the quintessential gentleman's gentleman, always ready with the perfect attire, the restorative cocktail, or the solution to virtually any predicament, and he may just manage to set things right. The result is a rollicking evening of comedy which is perfect for one and all.
Denton Community Theater
214 West Hickory Street
Denton, TX 76201
Official Site: www.campustheatre.com
The 39 Steps
Sept. 9 through Sept. 18
The show where Hitchcock meets hilarious! A faced paced farce based on the 1935 thriller. Adventure and danger are the key words for hero, Richard Hannay, after a chance encounter with a beautiful spy. He runs from police, and would be assassins while trying to uncover a plot to steal British military secrets. Part of the genius of this piece is that entire story is portrayed with only 4 actors. It will leave you wondering, "How did they do that!?"
---
Have a favorite location you think we should know about? E-mail us here.
Information gathered from the official website for each organization. Performance dates, hours, and other information may change -- please see each location's site for additional information