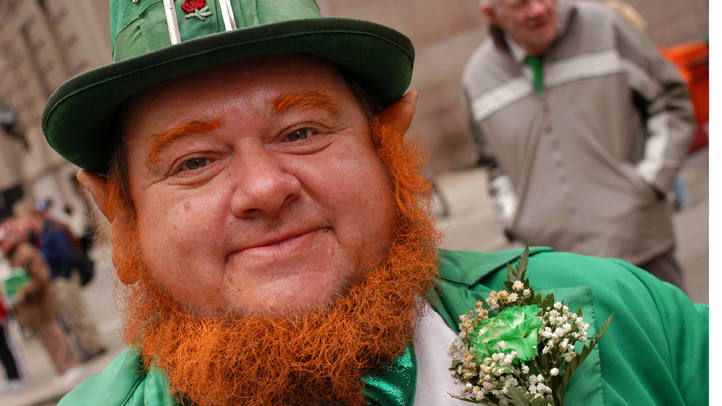 Whether you're looking to head down to the local boozer (bar), snog (kiss) with your sweetie at the Annual Greenville Avenue Parade, or just go somewhere to get locked (drunk), there is plenty of exciting St. Patrick's Day celebrations in DFW this year. Check out our lucky list of events.
All events take place on Saturday, March 17, unless otherwise specified.
Dallas County
31st Annual Greenville Avenue St. Patrick's Day Parade
Time: 11:00 AM
What began in 1979 as a local community event with no more than a few vehicles has evolved into one of the biggest events of the year in Dallas. With over a hundred floats and an average public attendance of 100,000, this parade rivals those in Boston, Chicago and New York. When news spread that the parade might not go on this year due to limited funding, Mark Cuban donated $40,000 stating "You can't just let a tradition like that die." Warning: You might want to leave the kids at home for this parade, it has been compared to a Dallas Mardi Gras celebration. CLICK HERE for your 2012 Greenville Avenue St. Patrick's Day Parade Survival Guide.
Dash Down Greenville 5K
Greenville Ave & Lovers Lane
Dallas, TX 75206
Time: 8:00 AM
Price: $30 before March 7, $35 March 8 - 15, $40 Race day
Kick off a day of St. Paddy's Day fun in Dallas with the Dash Down Greenville 5k benefiting the North Texas Food Bank. Winners in the male and female categories can take home up to $400 in prize money.
Website
Irish Baking
Central Market Cafe
5750 E. Lovers Lane
Dallas, TX 75206
Time: 10:00 AM - 12:30 PM
Price: $55
Learn how to create your own Irish baked goods including shortbread cookies, Irish soda bread, marbled chocolate mousse cake and apple berry crumble. Reserve a spot online. Seating is limited. Must be 18 years of age or older.
Website
A Little Bit Tipsy
Pinot's Palette
6465 E. Mockingbird Lane Suite 420
Dallas, TX 75214
Time: 7:00 - 10:00 PM
Price: $45 per painter
If you're looking for a less rowdy crowd, stop by Pinot's Palette for a paint-and-sip art class. Bring a bottle of your favorite beverage and learn how to paint a St. Patrick's Day inspired work of art.
Website

St. Patrick's Day After Parties
The Granada Theater and Sundown at Granada
The Granada Theater: 3524 Greenville Ave, Sundown at Granada: 3520 Greenville Ave
Dallas, TX 75206
Time: Doors open at noon
Price: Free admission, $5 menus provided
Head over to the Granada Theater and enjoy beer, BBQ brisket and live music from Band of Skulls, We Are Augustine and The Commotion beginning at 8:00 PM. If Reggae music is more your scene, join the party on the rooftop patio at the Sundown at Granada. Live Reggae music by The Effinays, Melody Memory and Basic5 begins at 12:30 PM. Must be 21 and over to attend.
Website
St. Patrick's Day Concert with Ryan Bingham and the Dead Horses
Energy Square
Corner of Greenville Ave & University Blvd.
Dallas, TX 75206
Price: $15 (must be purchased in advance)
Time: Gates open at noon
Dallas Observer and House of Blues Entertainment are joining forces for a post-parade rock n' roll extravaganza. Come enjoy the music of Ryan Bingham & the Dead Horses, Jonathan Tyler & the Northern Lights, Whiskey Myers, Whiskey Folk Ramblers and Hunter Hendrickson. Must be 21 and over to attend.
Website

St. Patrick's Month Specials
The Library Bar inside Warwick Melrose Hotel
3015 Oak Lawn Ave
Dallas, TX 75219
Time: The month of March
The luck of the Irish is bringing you St. Patrick's Day all month long at the Library Bar with food and drink specials including $5 Guinness, Harp and Killian's Irish Red, $9 Emerald Isle Martini and $10 Reuben Sandwich Sliders.
Website
Weekend O' Fun
Trinity Hall
5321 E. Mockingbird Lane
Dallas, TX 75206
Time: 8:00 PM - Midnight (3/15), 8:30 PM - Midnight (3/16), ALL DAY (St. Patrick's Day, 3/17), 2:00 PM - 7:30 PM (3/18)
Trinity Hall understands that just one day of St. Paddy's Day fun isn't enough. That's why the bar will host celebrations Thursday through Sunday. Enjoy live music Thursday and Friday, an all day celebration before and after the Greenville Ave Parade on Saturday and a family event feature live music, Ceili dancing and Pub Quiz Trivia on Sunday.
Website
St. Patty O'Party
QuikTrip Park
1600 Lone Star Parkway
Grand Prairie, TX 75050
March 16, 10 a.m. to 8 p.m.
Enjoy live music, running the bases, playing catch out on the field, and dollar hot dogs, hamburgers and Green Beer during this free event at the home of the AirHogs. Fans can take photos with the team's 2011 American Association Championship Trophy and with team mascot Ace Bacon.
Website

Tarrant County
Cowtown Goes Green
Stockyards Station
130 East Exchange Ave
Fort Worth, TX 76164
Time: 1:00 - 4:00 PM
Trade in your belts and boots for something a little greener and head to the Fort Worth Stockyards this St. Patrick's Day. The family-friendly event will feature free activities for kids including pony rides, a petting zoo, face painting, games and contests with Radio Disney, live music, gunfights and an "Irish Western" parade following the 4 PM cattle drive.
Website
J. Gilligan's St. Patrick's Day Celebration
J. Gilligan's Bar & Grill
400 E. Abram
Arlington, TX 76010
Time: Bar opens at 11 AM
Celebrate like a true Irishman at this local Irish Pub. In addition to Irish Nachos and Green Beer, you can also enjoy live music all day long. The bar will host the talents of Irish dancers, bagpipe players, Hill City Band, Morning People, Sting Rays and Clearfork.
Website
Other
Dublin St. Patrick's Day Festival
Time: Parade begins at noon
If you're not able to make a trip to Ireland this St. Patrick's Day, the Dublin, Texas St. Patrick's Day Festival is the next best thing! Visit "Texas' Official Irish Town", just 80 miles SW of Fort Worth, and enjoy a family-friendly parade in honor of military service men and women. The festival will also include an Irish Stew cook-off, a carnival, square and line dancing, concerts, arts & crafts, laser tag, Bulls and Broncs rodeo, a petting zoo, a classic car show, beauty pageants and more!
Website
Want to find a drink at one of the dozens of Irish-inspired bars and pubs in Dallas-Fort Worth? Click here for a big list of brew spots.