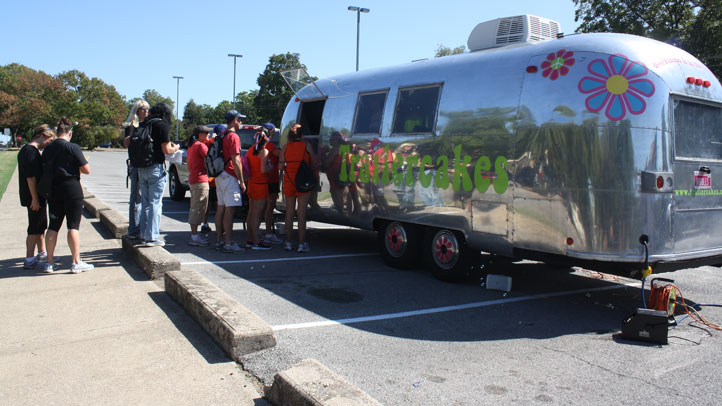 The folks at Trailercakes believe in one simple phrase: "Happiness is in the Frosting."
They not only share this happiness through their Richardson-based bakery, but also on wheels in the form of a 1965 Tradewind Airstream trailer named Bubbles.

"Cupcakes, in particular, are a personal-sized 'happiness' inside of a wrapper," said co-owner Heather Zidell. "How is it possible to be sad when you are looking at a cupcake?"

Owners Zidell and Leora Azoulay Lesh call themselves the Chief Frosting Officer and Chief Cake Officer respectively, and have been on the road with Bubbles since March. The duo bakes what they need in their kitchen, located in the basement of an office building off Highway 75, and set out with the trailer at various special events and parties across the area.

Both the trailer and the kitchen are decorated with retro flowers and peace signs, and the public is open to visit the underground bakery to enjoy the cupcakes. Curbside delivery is even offered for those who don't want to venture below ground.
"When we first started, we needed a place to bake," Zidell said. "We are still pleasantly surprised that people visit the basement, but we love that they do."

Friends for almost 20 years, Zidell said she and Lesh have always held a passion for baking, and a dream for owning their own business. Despite splitting their focuses on working full-time day jobs and raising families, the women wanted to bring the growing trend of food trailers and trucks to Dallas.

"We thought – let's take something that reminds us of our generation, the early '70s, and bring it to life via the passion we both love – cupcakes," Zidell said. "Leora called me one day and asked if I wanted to open a cupcake business out of a vintage airstream trailer. My response, which didn't need a pause to consider, was yes."
Acquiring Bubbles was actually by accident on eBay. After placing a bid in the auction, the ladies didn't realize that the trailer was full of gaping holes. Or that the owner lives on a middle-of-nowhere ranch in Ohio.
After the winning bidder backed out, the trailer fell into the hands of Zidell and Lesh by default.
"It was a stupid Lucy and Ethel type of purchase," explained Zidell. "It was in terrible shape but we just looked at each other and thought, 'let's just make it work.'"
They had it towed all the way to Texas and spent months restoring the trailer into the shiny, retro painted hub seen today.
The cupcakes have wacky names like "Slap-Your-Mother-Chocolate" and "Laverne & Shirley" and are each made from scratch with a final touch that adds the cherry on top, like Fruity Pebbles in the "Pebbles and Bam Bam" cupcake or a chewy candy piece in the "Who You Callin' Coconut."
"Our nostalgic toppings are what really makes us different," said Lesh. "Other cupcake companies sell cakes. We sell happiness. We put our heart and soul into each bite to make sure they evoke happy emotions."
Unique to Trailercakes is the PB&J cupcake, which has perhaps garnered the most attention from cupcake enthusiasts. Made with white cake, a grape jelly center, and peanut butter fluff frosting, the cupcake is topped off with a Nutter Butter cookie.
"I can't count the times I've explained to people that I personally would never order a PB&J cupcake," said Zidell. "When you think of PB&J as an adult, aren't you immediately taken back to your fun youth when eating a PB&J sandwich, and going to the playground was a lot more fun than the real world of the emails, traffic, and stress we live in today?"
While cupcake operations have become a noticeable trend in North Texas, the duo said they believe to be the exact opposite of a boutique cupcake shop.
"We used to refer to ourselves as the 'green bean casserole' of cupcakes. That's because our focus is on taste and quality," said Zidell. "We are laid back, we make mistakes and we're OK with that. It's sometimes the imperfections that make things perfect."
UPDATE: In 2012, Trailercakes moved into a permanent location in Dallas in Knox Park.
Trailercakes
3001 Knox Street, Suite 101
Dallas, TX 75205
214-789-1642
www.trailercakes.com