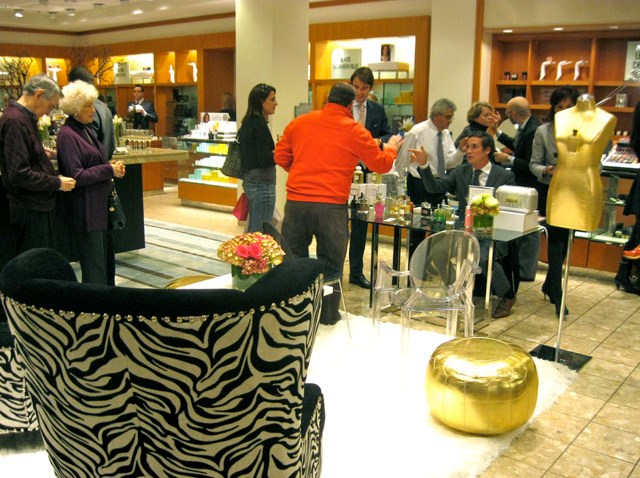 Creed fragrances celebrates their 250th anniversary this year, and the famous French label - who have created scents for the likes of King Edward VIII and Audrey Hepburn - is one of the 100 oldest family businesses in the world. If you haven't sampled one of their signature scents, then you've missed the most luxurious fragrances on the market.
In celebration of their anniversary, Erwin Creed, the 29-year-old son of current CEO, Oliver Creed, and future head of the company, visited Dallas to launch their anniversary line of limited edition scents at Neiman Marcus' Northpark location. He was nice enough to share his thoughts with us as he prepared to sign Creed memorabilia for fans in store.
Which of the limited edition scents are your favorite?
"Spice and Wood and Aventus are new for our anniversary year; Windsor is also coming into the line, and that's very special. It was created in the 1930's for the Duke of Windsor -- he was king but left the throne to marry an American -- and It will be released this year in very small reserve."

What have you seen that's memorable in Dallas so far?
"The Hotel ZaZa is where I'm staying, and it's been good so far. It's sort of cool, yes? I'm going tonight to the Dragonfly."
You're impeccably dressed; who is your suit by?
"It's Isaia and the shoes are Berluti, which I love."
You live in Paris full-time, but where else could you see yourself?
"I love New York; it's my favorite city in the world except for Paris. I did live there for a bit but work is at home; there is always something happening and so much energy. Everything in the world you could want to do is right down the block or close by."

You can buy Creed fragrances locally at Neiman Marcus; it's worth noting that new scent Spice and Wood is only available at Neiman Marcus through January 2011, so act quickly. Additionally, they are the exclusive distributor of new scent, Aventus, in the United States.
You can also shop the fragrances online at Creedboutique.com; the Windsor fragrances are only available through their website.
Copyright FREEL - NBC Local Media