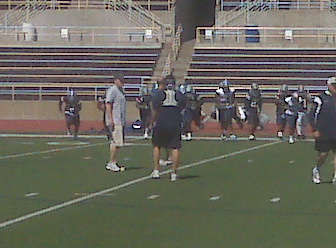 It was day one of Cowboys OTA's (organized team activities), and at least after the first workout, the headline is about a coach, not a player. Joe DeCamillis made a surprise return to this mornings workout, just two-weeks after having surgery for broken vertebrae suffered the in the practice facility collapse. DeCamillis was fired up, yelling at players threw a megaphone. Both Wade Phillips and Tony Romo said the early return of DeCamillis was inspiring. He left after the special teams portion of the practice, and Phillips said he'd watch the tape from home.
Other notes from day one:
There's a new Wade in town: Wade Phillips promised he'd change is ways this year and a new vocal uncle Wade did some yelling today. Every practice there's air horn that signifies the stop and start of each drill. The qb's and wr's got started a little early on a drill, before the horn sounded, and Wade got a little angry. He yelled, "Hey, don't start the damn drills early!" Look out.
QB's: Tony Romo wasn't particularly sharp. A number of his passes wobbled and he under threw Roy Williams a few times on deep routes. Overall though, not a horrible start. It's more a timing issue. Jon Kitna looked like a very capable backup, throwing his passes with some zip. It was apparent that he'd worked with Roy Williams before (Detroit), those guys were in-sync on a few throws. Rookie Stephen Mcgee, was also impressive. Many of us questioned his arm strength because we rarely saw it when Mcgee played at Texas A&M, but today he proved he can make all of the throws.
RB's: It will be an absolute joke if the Cowboys don't lead the league in rushing this year. They have, without question, the best stable of running backs in the league with Marion Barber, Tashard Choice, and Felix Jones. All of them looked as good as you can without pads. Felix was back after not seeing action since being injured in the Arizona game. His cuts looked good, and his speed was there.
Rookies: All of the rookies were present except two: Mike Mickens, and Victor Butler. Both were back home finishing up other commitments.
The Cowboys will practice tomorrow, and again on Thursday. The next practice open to the media is Tuesday.