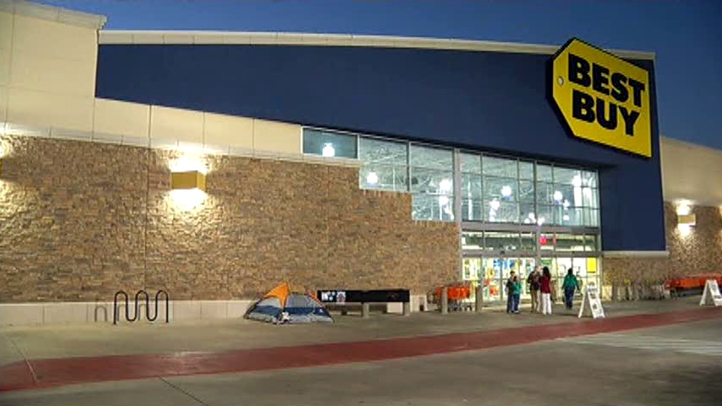 A North Texas couple is getting a big jump on the Black Friday crowds.
Twenty-year-old Brandon Vanderstelt and his wife are already huddling in a tent outside a Best Buy in Denton.
"Apparently, the record is a week, and we came out here three days before that," Vanderstelt said.
Vanderstelt wanted to be the first in line. And he's after one thing.
"It's an $800 TV for $200, so we figured people would be out here really early, and that's a deal we didn't want to pass up," he said.
All day, customers stop and stare at the couple's tent, which is decked out in Christmas decorations and a sign reading "Occupy Best Buy."
"We get about 100 questions a day and about 100 pictures," Vanderstelt said. "Everybody talks to us. It's fun."
Denton resident Catherine Dutton said she couldn't believe it.
"I saw this and thought, 'Oh my goodness,'" she said. "I can't believe it's Black Friday a week in advance."
But Vanderstelt isn't the only one already catching holiday spirit. On the road, Dallas drivers were already demanding holiday tunes.
"Every single day, it picks up -- the e-mails, the phone calls, the Facebook hits and messages ... people wanting Christmas music," said 103.7 Lite FM afternoon announcer Leigh Ann Adam.
The station started playing nonstop Christmas music Thursday.
While some people say it's still way to early to think about Christmas, holiday faithful such as Vanderstelt say it's never too early to start preparing.
"It will definitely make me love that TV a lot, but it's worth it," he said. "It's fun being out here, anyway."