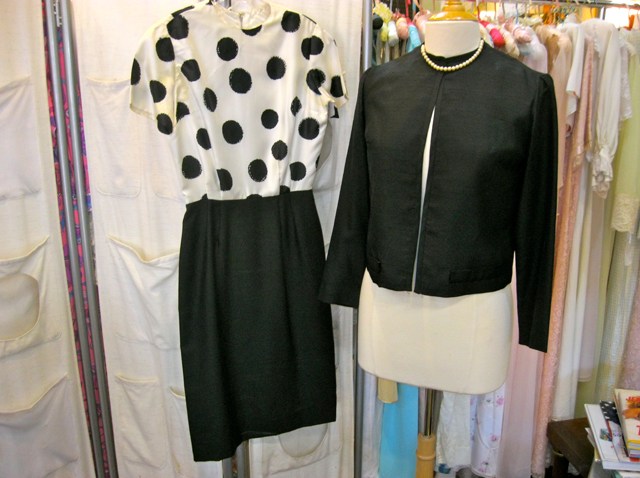 Are you a vintage-lover on a budget? Today's look at the best of Dallas' wallet-friendly finds at the cities' best vintage shops will help you satisfy your closet cravings.
We stopped by Zola's Everyday Vintage, Ahab Bowen, Vintage Martini, Archive Vintage, and Lula B's to see the latest offerings on their racks. It's true; some of these stores also specialize in high-end, haute couture pieces, but each of them also carries pristine pieces that are available for a steal. All items featured in the gallery will cost you less than $100. And you just can't beat one-of-a-kind finds for friendly prices.
Our trip to Zola's yielded several beautiful cocktail pieces; our choice is a two-piece 60's dress in a pale, nude satin. The cropped, beaded jacket that accompanies the dress buttons up the back for a demure look, but when the jacket is removed, the sexy, fitted frock underneath reveals your inner bombshell. Our other major finds were reworked pieces from local resource, Salvage House. Owner Tracy Popken restores and updates vintage styles, converting them to current, ready-to-wear pieces.
Ahab Bowen is known for their inexpensive vintage, but a bit more work is required to find those special pieces. A short, 60's, black, chiffon dress with sweet grosgrain detail for only $26 is our top pick - so chic - and we also loved a sheer-backed 80's number that is totally now with minor alterations.
Killer 60's pieces from Vintage Martini - our favorite is a black, fringed cocktail dress - and a gorgeous, paillette-covered cropped jacket were our favorite inexpensive finds at the Carrollton, Texas shop. Archive Vintage's quirky, lower-priced selections included a very cool, plaid motorcycle jacket that's adorable for Fall.
Lula B's is a treasure-trove of good finds, but be prepared to dig. A 50's white, floral, silk dress with short, fluttery sleeves and sharply-pressed knife pleats is a must-have; in fact, we did try to have it ourselves but it, sadly, didn't fit. We also liked a plum, asymmetrical day dress that we envision with point d'esprit tights and booties.
Check back tomorrow for a peek at amazing vintage accessories at all price points, and of course, go immediately to any of the above stores to shop our picks. Online shopping is also available from Vintage Martini and Archive Vintage.

Zola's Everday Vintage
414 North Bishop
Thursday 12 to 5
Friday -Saturday 11 to 10
Sunday 12 to 5
Ahab Bowen
2614 Boll Street
Monday - Saturday 11 to 6
Sunday 1 to 5
Archive Vintage
2912 Maple Avenue
Tuesday - Friday 11 to 6
Saturday 11 to 5
Vintage Martini
1106 West Main Street, Carrollton
Tuesday - Thursday 10 to 5
Friday - Saturday 10 to 6
Lula B's
2639 Main Street
Monday - Saturday 11 to 7
Sunday 12 to 7
---
Check out our week-long look at the vintage shopping scene in Dallas and beyond. Follow us on Twitter @dfwaroundtown for #vintageweek tweets and to send along your own vintage finds!
Copyright FREEL - NBC Local Media