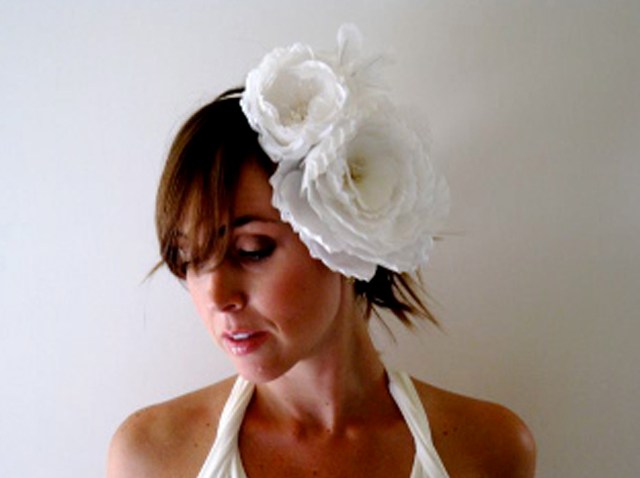 There's no wedding symbol so striking and sure than a bride who emerges showing her face in full. Long, vintage veils have their merits, but pulled-back hair with a crowning adornment is becoming a tradition in itself as a bride's individual personality takes precedence over put-on ceremony.
Huide (pronounced like Heidi) Arya of Sweet Pea and Fawn makes bridal headwear for women who don't want to keep their own funky style in the honeymoon suitcase. By day, Arya works for Ralph Lauren in Dallas, and the basic designs of her flower headbands, halos and tulle headpieces do reference classic bridal wear. It's the bold colors (even black!) and vintage touches in her collection that keep the line fresh. Brides-to-be can find toppers for gowns with sleek Greek silhouettes, flouncy skirts, and even Asian-inspired looks in Sweet Pea's shop.
Here our some pieces from Sweet Pea and Fawn's Etsy shop to look at with your favorite bride-to-be:
The deal: Little Goldie Combs, $55. For what you'd pay at a big-box bridal store, these darlings come with the mystique of Japan in the 1940s. The vintage velvet leaves are perfect for decorating a side ponytail, or even pigtails if you're up for it -- the antique combs come in sets of two and have six legs for precise placement.
The splurge: Eva Headpiece, $120. Not quite sure you want to ditch the veil? This shapeshifter might be for you. Made of coque and ostrich feathers and plenty of drama, it attaches to the head with a comb and can be pinned to accomodate any hairstyle. Simple dresses will be most friendly with this piece.
P.S. Bridesmaids can get in on the fun, too, with bow-topped headbands or colorful princess wreaths.
Copyright FREEL - NBC Local Media