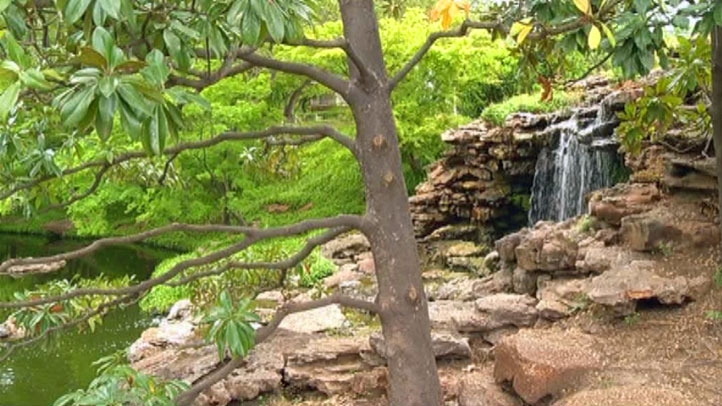 The oldest botanic garden in the state looks like a construction site in some areas and more work is on the way as the Fort Worth Botanic Garden gets more than $500,000 in improvements.
Visitors may notice the typical tranquility of the Japanese Garden interrupted by the sounds of construction vehicles.
Those running and supporting the Botanic Garden are as aggressive as the coy feeding in the Japanese Garden when it comes to maintaining and improving the 78-year-old grounds.
While, there is no major work happening on the grounds themselves, rather a new parking lot is moving in next door. However, the western fence of the garden is missing, leaving the construction a sight for garden goer's eyes.
The Fort Worth Botanical Society committed $323,000 on Wednesday to go toward the new fence, which will blend with the new Americans with Disabilities Act compliant ramps and platforms recently completed on the western side of the garden.
"The plans have already been drawn up, some of the lines have already been laid out, we're just waiting for the wood to put the thing up," said Steve Huddleston, Senior Horticulturalist for the Botanic Garden.
The Fort Worth Botanical Society will spend $200,000 renovating and fixing old water systems in nearby Rock Springs Woods which was created in 1912.
"This is our favorite area to explore," Nancy Strain of Fort Worth said.
Strain has brought her children and grandchildren to the garden for 25 years, where she has seen and approves of the upgrades.
"Oh yeah, they've taken great care of it, they've put that beautiful bridge in where you can see all the native plants and animals of Fort Worth, I love it," she said.
Texas loves the Botanic Garden too. The Texas Recreation and Park society recently named the garden a Lone Star Legacy Park, even though it's a garden, because of its historical importance and significance. And even with historically significant places, they could use a few upgrades now and then.
"It's just like with a house, you're always making improvements," Huddleston said. "That's what we have to do here at the Japanese Garden to make it a better, more pleasurable, safer experience for everybody."
With the Botanic Garden's master plan recently approved more improvements could be on the way in the years to come.
An estimated 700,000 people visit the garden each year, with 70,000 visiting the Japanese Garden alone.