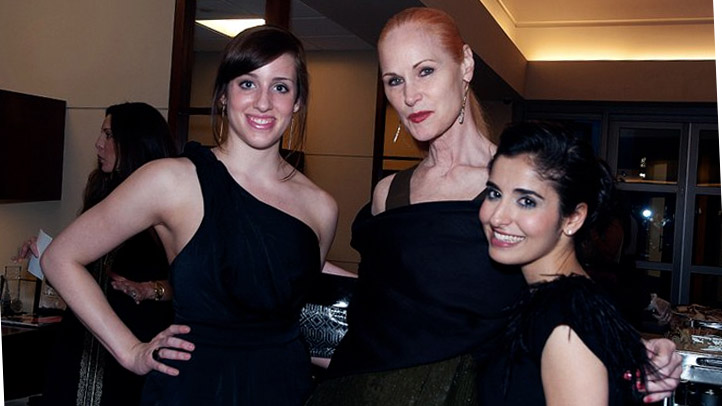 Ever wonder what it would be like to experience the Dallas style scene from behind-the-scenes? Well, one lucky student from the University of Missouri has gotten to do just that this summer thanks to a coveted internship with Jan Strimple Productions. Soon to be sophomore, Rachel Cowlishaw, turned her creative talents toward the fashion world while she was still in high school, scoring a spot in Teen Vogue's Fashion Camp, and now that she's nabbed a prime seat from which to take in Dallas' designer dramas, we wanted to know what memorable moments she'll be taking with her when she returns to Mizzou. Find out who Cowlishaw's stylish crush is, which recent 80s-themed bash was bananas, and what celebs she's spotted out and about.

How did you snag your internship with Jan Strimple Productions? "My Nana, Patricia Cowlishaw, knows Jan and recommended me! She warned me that it might be a long shot; so, when I found out I was hired for the summer, I literally couldn't believe it. I called my Mom and just said, 'Oh my gosh! I got the internship with Jan!' But Mom is sort of used to me being full of surprises, since I applied for theTeen Vogue program without telling her ahead of time."

What's the best advice Strimple has shared with you? "Always wear lipstick! And on a more serious note, I've definitely learned the importance of good, persistent communication, because Jan excels at that, and it helps her business run incredible smoothly. My other favorite advice from her has been to let my work speak for itself. Jan reminds me often that it's far better to show someone your work and creativity rather than tell them about it."

Any fashion faux-pas moments as an intern? " Yes! Oh my goodness, yes. The worst was when I showed up at Cafe Pacific in jean shorts. I had no idea what an elegant restaurant Cafe Pacific was, since I'd never been there before, and I definitely would've chosen a different ensemble if I had. The manager came over and subtly told me that I was in violation of the restaurant's dress code, in front of clients and Jan. I was mortified!"

What have been your most memorable experiences so far? "Definitely the major 80s party at the old Starck Club that I worked on with Jan. The couple throwing the party went really over the top in the most fun possible way, and they turned the space into an all out 80s affair with go-go dancers, drag queens walking poodles through the party, and even had Boyz II Men and Vanilla Ice attend! Spotting George W. Bush and Troy Aikman lunching on the patio at Brook Hollow was also pretty exciting; I could barely eat my lunch! Attending Christian Siriano's runway show and grabbing a picture with him was definitely a highlight too."

What's next for you, aside from a return to school in the Fall? "Well, I switched my major to Fashion Marketing, Merchandising, and Product Development; so, I'm finishing that transition, and I'll take my first pattern-making and design class this Fall. I'm also getting ready to study abroad in Paris next year at the American InterContinental University."

Does your Dad, a noted sport's journalist, weigh in on the direction of your career? "My parents are so supportive, and I'm so grateful! I did head to Mizzou thinking I would study journalism, but I know I truly want to pursue a creative career. Maybe styling, maybe design. I'm not sure yet, but my Dad always encourages my artistic side. He had me draw an interpretation of a Rolling Stones album cover as his Father's Day gift."
Any favorite Dallas shopping discoveries to share? "I'm forever obsessed with Anthropologie, and the Highland Park Village store is my favorite ever. I'll miss it when I return to Columbia! I also loved seeing the clothing and jewelry by student designer, Neil Marek, from UNT."
You can keep up with Cowlishaw's adventures via her blog, and we'll be looking forward to her full-time return to Dallas once she's finished taking Mizzou by storm.
Copyright FREEL - NBC Local Media