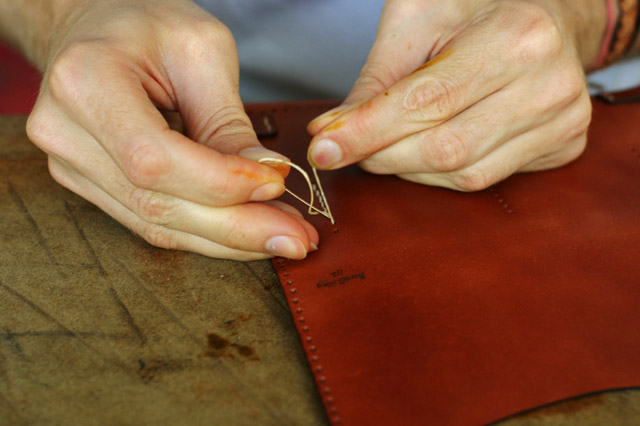 Leather goods designer, Barrett Alley, is attempting more than just sartorial style. He's using his Dallas-based label to redefine what it means to create handmade pieces that display integrity in their quality, as well as in the process by which they're made.
Of his collection, Alley said, "After I finished the initial line I wrote a small article, 'Conscious Consumerism,' to transparently describe my production process in relation to the current fashion zeitgeist. It's about consciousness on all levels - ecologically, socially and financially."
Even if you prefer to consume your philosophy and design ideas separately, you'll love Alley's custom wallets, bracelets, and accessories. We caught up with him recently to find out a little more about his namesake label and what inspired him to become the newest member of Dallas' design elite.
Why leather goods?
The only mission was to create for myself what I couldn't find in stores: durable, well-designed leather accessories. All natural materials are inspiring, and leather is particularly good for personal accessories like wallets and belts. It's strong, flexible and naturally beautiful.
What drew you to design in the first place; any background in fashion?
I'm self-taught. I do have a professional background in photography and design.
Be honest, what's your favorite piece in the collection?
I carry the Devilish wallet. I worked on prototypes for over two years to get it just right.
Who do you think of when you design or when you get dressed every morning?
The best artists only think of themselves when they work. I admire lots of peoples' styles, but not in the sense that I try to emulate anyone in particular. I'm always inspired by Dallas' Mexican immigrants that work in landscaping. Most of them come from a rural culture that hasn't been greatly impacted by daily trends, and their work requires that their attire be practical and durable. So I think their traditional approach to fashion works really well: jeans, boots, bandannas, and maybe a straw hat in the summer.
You helm Barrett Alley in both a design and business capacity; what's it been like finding that balance creatively?
Being a one-man company, you find yourself doing a lot photography, website stuff, and marketing in addition to all of the actual product design and production. Fortunately I have some experience in all those areas.
What could you never see yourself designing?
It would be hard to find inspiration running behind technological trends - like designing little holders for each new plastic gadget that is released to the marketplace.
Alternately, what would you love to try your hand at?
I would, however, like to use machines someday in order to work with fabrics for apparel.
Where can we buy the label immediately?
As of today, barrettalley.com is the best place to make a purchase. I am in the process of talking with brick and mortar retailers across the world, so check back on our website every few weeks for information on new stockists.
Copyright FREEL - NBC Local Media