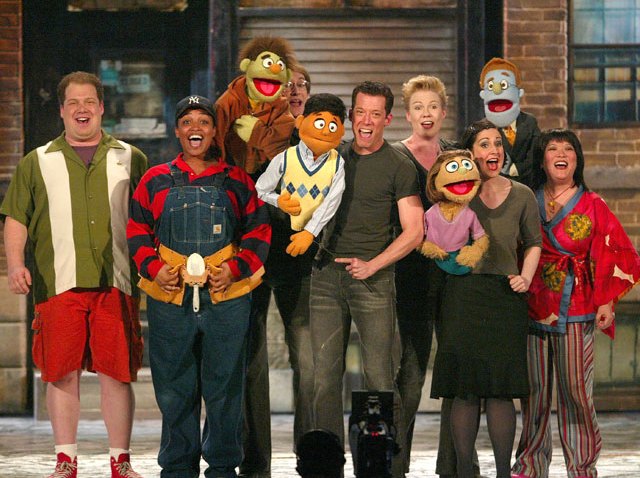 Avenue Q, currently playing in Dallas, dedicates the city's performances to the late Gary Coleman.
The award winning, puppet-filled, musical "Sesame Street" parody, features a character loosely based on the former child star. In the musical, Gary Coleman, is the building superintendent. Nigel Jamaal Clark plays Coleman in the Lexus Broadway Series tour. Clark took a moment following Friday's Dallas performance to say, "As you all may be aware of, we lost Gary Coleman. As a company, we'd like to dedicate this performance to his memory." Within every Avenue Q program, from now until the end of the Dallas performances, there will be inserts recognizing the passing of Coleman.
Gary Coleman was hospitalized on Wednesday, May 26 for a head injury and died on Friday, May 28 suffering from a brain hemorrhage. Coleman was the child star of "Diff'rent Strokes" in the late '70s through early '80s.
Avenue Q features an array of puppets and human characters living in a fictional New York tenement. The show addresses taboo topics in a comical way with puppets adding innocence to the mix. "They're cute puppets singing about racism and porn and being gay," says Michael Liscio Jr. who acts as several puppet characters in the show.
Avenue Q also pokes fun at the career and financial troubles of Gary Coleman with his character contributing to the number, "It Sucks to Be Me." One of the show's creators, Jeff Marx, told Entertainment Weekly, "It's a very sad day for all of us." The nature of the show will remain the same, including Coleman's character, but Marx added that some lines in the script will be altered because they may be "inappropriate."
The standing ovation after Friday night's performance is evidence on how audiences receive and appreciate the company's portrayal of Coleman who will be immortalized and remembered through his works and through Avenue Q.
The Lexus Broadway Series tour has been traveling since September 2009. Avenue Q is currently on stage at the Winspear Opera House in Dallas and will continue to run until June 6.