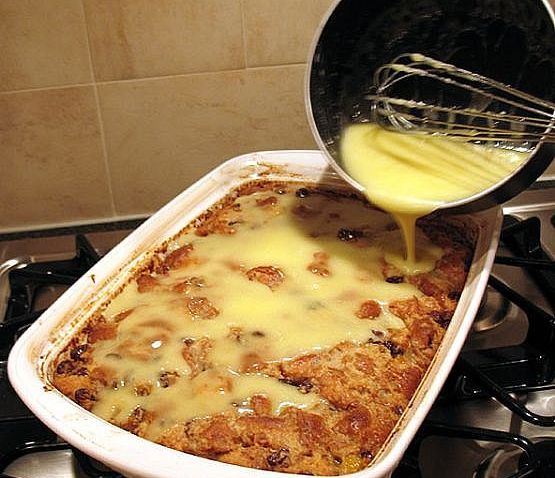 Chocolate Bread Pudding
6 medium-sized croissants
3 cups heavy whipping cream
1 can of sweetened condensed milk (14 oz)
1 ½ cups brown sugar
1 ½ cups milk chocolate
1 tblsp vanilla extract
pinch of cinnamon
pinch of nutmeg
Preheat oven to 275 degrees
Grease the edges of an 8x8, 3 inch dish
Cut croissants into quarters and into a grease dish
Combine all ingredients (except the chocolate) in a large bowl and mix well. Ingredients will include heavy whipping cream, condensed milk, brown sugar, vanilla extract, cinnamon and nutmeg.
Pour mixture over croissants and let sit for 10 to 15 minutes
Let the bread soak up the mixture
Sprinkle chocolate pieces on top
Cover with plastic wrap and foil. Cook at 275 degrees for 30 minutes, then uncover for another ten minutes until the top is golden brown in color.
Caramelized Bananas
6 bananas
2 cups granulated sugar
1 butane torch
Peel and cut bananas in half
sprinkle liberally with sugar
go over the top with the heat from the butane torch
Rum Syrup Recipe
½ bottle of Captain Morgan Spiced Rum
1 cup brown sugar
Combine ingredients in a sauce pan and simmer on low for 10 to 15 minutes until it has a syrup-like consistency.
Dish out serving of chocolate bread pudding, top with banana halves, and serve with rum syrup drizzled on top or served on the side.
Enjoy!