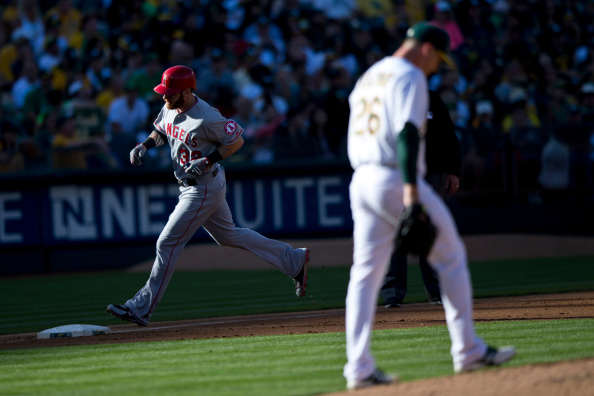 In a weekly segment, we'll take a look around the AL West — what's happened so far, and what's on tap in the coming days.
1. Los Angeles Angels (79-53) — The Angels are now owners of baseball's best record and are still chugging along after losing ace Garrett Richards for the season last week. We'll see how long that lasts. Right now, the Angels' offense is getting a boost from the called-out Josh Hamilton & Co. We'll see if they can hold off the A's over the next month and win their first AL West crown since 2009. Next up: Tonight, 9:05 p.m., vs. Oakland Athletics.
2. Oakland Athletics (78-54) — The A's have struggled since making some blockbuster moves around the trade deadline and are just 5-5 in their last 10 games. The offense has taken a massive hit since trading away Yoenis Cespedes, but they did just trade for Geovany Soto. Haha. The A's have the pitching to get the job done, that's not a question. But can they score runs? Next up: Tonight, 9:05 p.m., at Los Angeles Angels.
3. Seattle Mariners (72-60) — A team like the Mariners — battling for a Wild Card spot — can't afford to drop games to a cellar dweller like Texas, and the Rangers took two of three from the M's in Seattle. They're still in the hunt, but they're fading fast. Next up: Friday, 9:10 p.m., vs. Washington Nationals.
4. Houston Astros (56-78) — Yes, your Rangers actually have a worse record than that 56-78 mark. Pretty unbelievable, huh? The Astros got hot there for a bit but then lost some of their young, exciting talent to injuries, most notably Rookie of the Year candidate George Springer. Next up: Tonight, 7:10 p.m., vs. Texas Rangers.

5. Texas Rangers (52-80) — Man, this season just gets more and more painful and more and more injury-filled. One more roster move and one more pitcher, and we'll have a couple of more records. Hooray. Next up: Tonight, 7:10 p.m., at Houston Astros.
Copyright FREEL - NBC Local Media