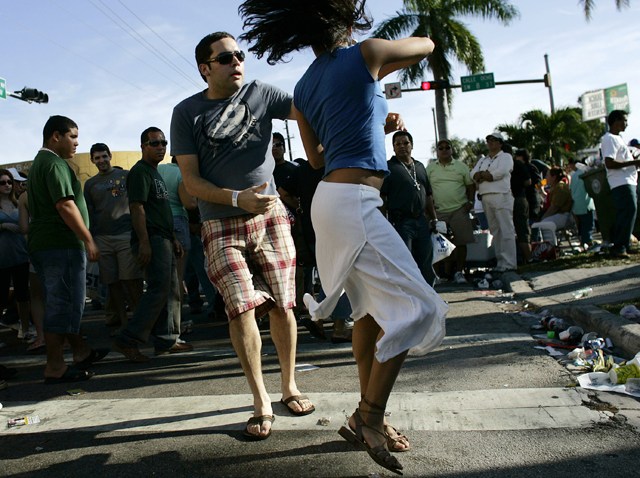 SUNSET SOUL: The Saturday forecast suggests the temp might not hit 90 degrees. Quick, where's the best restaurant in downtown Dallas to dine al fresco? Shelve your Zagat guide and visit the Nasher Sculpture Center, where you can make reservations to eat outside at the Nasher Cafe by Wolfgang Puck. Casual diners can opt to munch on pizza in the garden and gaze up at the colors of the evening from inside James Turell's skyspace. Cuvée will play Motown and R&B for both crowds as part of the Saturday Night in the City garden concert series. Dinner at 6PM, concert at 7:30PM.
NOT WITH CHIPS: Te gusta bailar? It's probably time to turn off your DVRed "So You Think You Can Dance" marathon and take a date to Beckert Park in Addison. Free salsa lessons courtesy of The Dance Council of North Texas start up at 7PM for free on Saturdays in August, and the spirited four-piece El Grupo Changui de Denton featuring ambient-rocker by day Robert Gomez plays at 8PM for students to cut loose.
VARIETY AS SPICE: The hottest comedy show with a multi-cultural thrust since the Wayans brothers' "In Living Color" is live on Sunday at House of Blues as Kiki Melendez leads her "Hot Tamales" crew in a snappy celebration of diversity. Get more details and a video preview here. 7:30PM.
Copyright FREEL - NBC Local Media