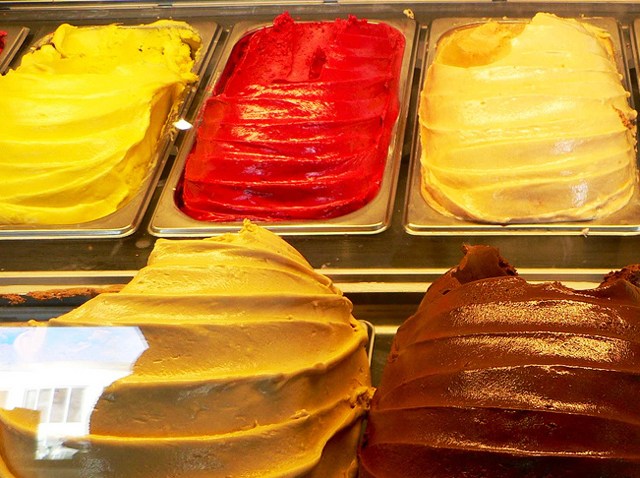 EATING IT UP: From Pierre's Mardi Gras Cafe to Paciugo, you can be sure that you're going to get your eat on when you show up to the Taste of Dallas today starting at 4 p.m. in Fair Park. Expect a cooler time than years past -- many of the tastings are moving indoors! From celebrity chefs to music to your favorite restaurants, there is no way you can show up to this and not have a great time. No reservations required as you and your friends tour the food booths and try as many menu items as you like. No tasting is over $3, allowing you the opportunity to try a wide variety of awesomeness. Plus, NBCDFW is a sponsor, so come out, show some love and share a gelato with us. (P.S. Terilli's tells us they'll be out serving Chicken Scampi and Caesar Salad while fund-raising to re-build their Greenville Ave restaurant by selling "I Heart Greenville Ave" t-shirts.)
WIDOW MAKERS: If you've haven't seen True Widow yet, tonight at Rubber Gloves would be as good a time as any. When Dan Phillips' previous band Slowride (moderately well known in punk and emo circles for their pummeling onslaught and lyrical wit) dissolved, the songwriter took a different turn. He moved away from his native Texas to Massachusetts to be trained in the old ways of woodworking -- and, for a while, there was a question of if he would ever craft another tune. While the cold and solitude certainly had their effect, they allowed him to reflect and turn inwards to build something new. The band which now also consists of co-vocalist and bassist Nicole Estill and drummer Timothy Starks were aiming to do something entirely different from their peers, and for the most part they're achieving it.
YOU CAN'T TOUCH THIS: The Circle Theater in Ft. Worth is tangible. It has four walls, a stage and a penchant for the abstract; or, at least, they currently do as they present a play about the intangible. You ready? Let this wrinkle your brain: It's Hollywood, 1940. Two brothers struggle to run a studio on the brink of a major movie innovation. One is a visionary and the other a "numbers man". If they don't kill each other first, they will create something intangible. I for one am hoping "intangible" is code for "Bill and Ted's Excellent Adventure," but that's about 40 years too early...
---
Get to know What You're Doing Tonight every day by connecting with NBCDFW Around Town. Text DFWTonight to 622339 to get WYDT updates right on your mobile device. Still need more things to do? Check out our Events Calendar.
Copyright FREEL - NBC Local Media