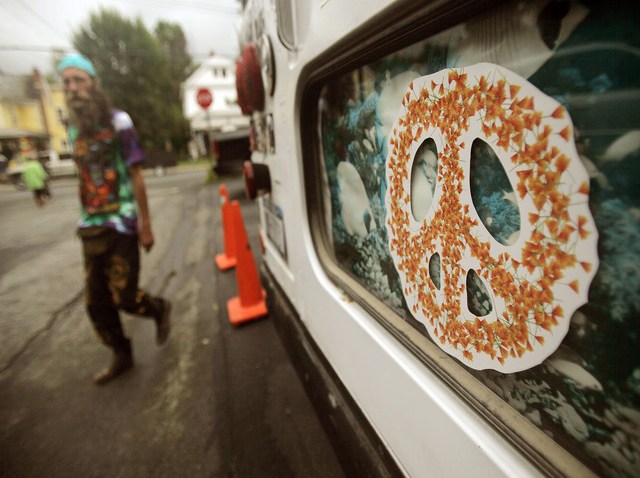 PIECE OF CAKE: While little seems to be known about exactly how the Watel's World Piece Cafe decorating contest exactly works, we can tell you that it's worth stopping in and having dinner tonight to find out the proper directions. After a successful soft opening, the World Piece cafe is celebrating with a two different decorating contests, and they both involve free dinner. The first is free dinner for two by submitting a winning entry to decorate the "Piece Mobile" which is, naturally, a '74 VW microbus. The second is free dinner for two by submitting a winning design entry to decorate small plates.
ROCKIN' THE MONDAYS AWAY: Tonight, make Good Records your living room. Bean bags and chairs will be provided as for those of you that can't bring your own sofa. Sponsored by Lone Star Beer (The National Beer of Texas), free shirts, hats, and more from Lone Star will be given away. Feel free to bring your own snacks, drinks, and chairs too. Once inside, settle in for a double feature of "The Runaways" & "The Mayor of Sunset Strip." If you're anything like me, you'll be hard pressed to just sit and watch the movie -- I'll likely end up walking out with a stack of vinyl as high as Friday's paycheck.
A GOOD CRY DOES THE SOUL RIGHT: If you're looking to see something that feels a little closer to the classic Southern experience, then you'll want to check out Steel Magnolias, which is being put on by the Artisan Center Theater in Hurst. Steel Magnolias is a touching story of six southern women that gather at a beauty shop in a small town in Louisiana and share stories, experiences and gossip. With personalities as delicate as tender magnolias and determination and spirit as tough as steel, these women face adversities and life in general. It's a feel-good show that is full of laughter and tears. Ticket prices range from $7 to $16 and the show starts at 7:30.

---
Get to know What You're Doing Tonight every day by connecting with NBCDFW Around Town. Text DFWTonight to 622339 to get WYDT updates right on your mobile device. Still need more things to do? Check out our Events Calendar.
Copyright FREEL - NBC Local Media