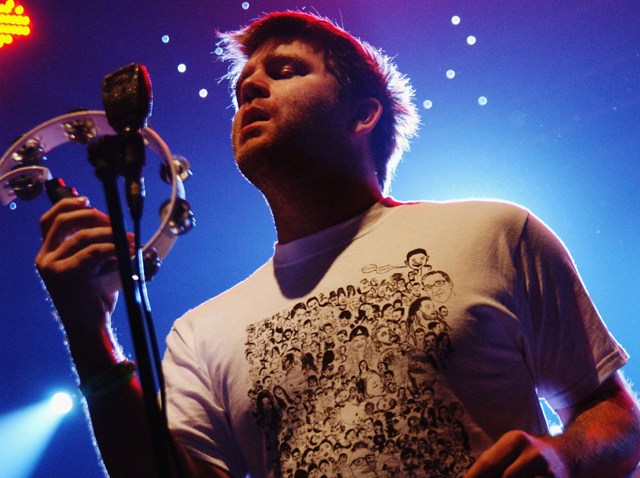 GETTING IN TOUCH WITH YOURSELF: There have been few artists in recent years that have been able to capture the blasé nature of getting older while being a part of the youth culture they were once engulfed in like LCD Soundsystem. Let's examine a quote from frontman James Murphy that was posted on the band's MySpace page. "this is basically a band. we're getting ready to finish a record and put it "out", whatever that means anymore, into the world next year. i think we're a good live band, but i'm pretty sure we're about to be way better than we've ever been. i'm excited. i'm writing that down because it's a total shock for me to hear it coming from my brain. i'm excited for us to tour and play all of the places we've loved to play. and some of the places we've never played. there are other things afoot, which i won't go into. but i'm actually excited to get into it in 2010." The man is so worn out with the whole thing he forgot to use capital letters. One things for sure though, he should be excited because the new LCD long-player is one of the years best. LCD Soundsystem perform tonight at the Palladium Ballroom.

ROCK YOU LIKE A HURRICANE: If hip youth culture is not your thing...well at least hip youth culture of the now, then we have you covered with something that will have both drivers of mid-eighties Camaros and players of Magic: The Gathering bonding together instead of one throwing the other in a dumpster. Iron Maiden and wait for it...wait for it...Dream Theater! You can bet your double bass drum petals that this show will have you longing for a time when Tawny Kitaen would have danced on your lunch room table. Well even though this unfortunate event happened to Ms. Kitaen, you can still live in the past while making memories for the future tonight at the Superpages Center.

YOU CAN HOOKA THIS OR YOU CAN HOOKA THAT: Here's something for you to wonder about. What does a half-priced hookah at Samar by Stephan Pyles taste like? It's seriously doubtful that it has anything to do with the usual "taste sensations" you find at a normal hookah bar. Come on man! This is Stephan Pyles. The man basically reinvented southwestern cuisine and put Dallas on the map as a foodie destination. Tonight guests to Samar Under the Stars, a late-night happy hour from 8-11PM on the patio, can enjoy $2 off all wines by the glass and specialty cocktails, $5 sangria by the glass, half-priced hookah, complimentary meze and music. Samar's patio provides spectacular views of the Arts District, while a selection of couches, chairs, floor pillows and lanterns surrounding a fire and water feature provide the perfect atmosphere to sip and socialize.
---
Get to know What You're Doing Tonight every day by connecting with NBCDFW Around Town. Text DFWTonight to 622339 to get WYDT updates right on your mobile device. Still need more things to do? Check out our Events Calendar.
Copyright FREEL - NBC Local Media