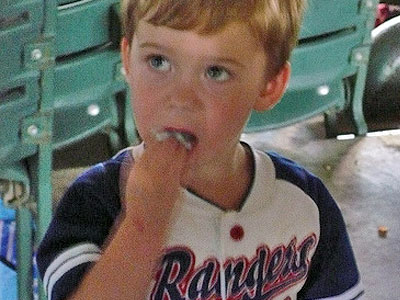 DOWN BY THE TRINITY: You know who can charge five bucks a ticket for you to watch their songs played live? Most everybody. You know who can charge $300 to hear their songs played and have people not blink an eye? Neil Young. Young, 64, is on the theater circuit across North America playing acoustic and electric guitars, harmonica, piano, keyboard and pump organ. His sets include a mixture of old songs and new unreleased material from his forthcoming album. Reviews of the first shows in the United States have been overwhelmingly positive, with critics praising the format, Young's presentation and selection of material, which has included favorites like Helpless, Heart of Gold, Cortez the Killer, Cinnamon Girl, Down by the River and My My, Hey Hey (Out of the Blue)." A dull moment never made itself known. The set list was stellar, too, as it should have been for a show commanding such a healthy ticket price. Young pulled from every corner of his storied career, and offered a sneak peek of material from the album he recently recorded with producer Daniel Lanois," wrote Jeff Miers of the Buffalo News about Young's May 19 concert. And for people who don't quite understand the nature of the tour, the concert T-shirts feature Young with a speech bubble coming out of his mouth saying, "I said solo ... they said acoustic." Young plays tonight at the Meyerson.
COTTON CANDY DOESN'T SWEAT, IT GLISTENS: So the last time we talked about going to a game we mentioned how wonderful the weather had been, and that it was the perfect time to get out there and enjoy a hot dog with your family with the enduring American tradition of baseball. This time it's a little bit hotter. Well it's actually a lot hotter. We are getting into what one might call the dog days of summer and man it is freaking burning up outside. Do you know what cotton candy looks like when it sweats. Well it's actually pretty cool looking, which is just one reason to get out the Ballpark in Arlington tonight to check out our Rangers play the Seattle Mariners. As the evening cools you'll settle into the feeling that your just living in a Tennessee Williams play, you'll wash your hands of whatever goo is left from the cotton candy and you'll break out that glove. Because tonight is your night, The night you'll catch that 400 foot long home run ball and look like a total bada** in front of your kids...and Lord knows since you started wearing dress shoes and shorts there are few too opportunities for that.
WHO SAYS THE MALL IS WICKED: Long before Dorothy dropped in, two other girls meet in the Land of Oz. How these two unlikely friends end up as the Wicked Witch of the West and Glenda the Good makes for the most spellbinding musical in years. Step inside a 20-foot bubble featuring set props, costumes, photo opportunities at the "Behind the Emerald Curtain" exhibit. visitors to The Shops at Willow Bend can find Wicked exhibits, retailer discounts, prize giveaways, cast appearances and a cauldron of other exclusive offerings to celebrate and promote the international theatrical sensation that is coming to Dallas. Visit the The World of Wicked at the Grand Court to pick up your "Passport to Oz" to take advantage of all the special offers and discounts available at The Shops at Willow Bend participating retailers including: A'GACI, Allen-Edmonds, Ann Taylor, Aveda, Blooming Beauty, The Body Shop, Bong's Tailors, Charles David, Chick-fil-A, Chinese Avenue, Crabtree & Evelyn, Crane & Co. Paper Makers, Crystals on Fire, Cutlery Collection, Da Vinci Teeth Whitening, Dallas Mavericks Fan Shop, Elizabeth Arden Red Door Salon & Spa, GNC, Godiva Chocolatier, Haagen-Dazs, Habacker's, Jos. A. Bank Clothiers, Laserium Med Spa, Lexus Valet Parking, Nine West, Origins, Scrubs Style, Skechers USA, Sonic, Speranza Design Gallery, Starbucks, Strasburg Children, Sweet & Sassy, Sweet Factory, Toni&Guy, Under the Bow, United Colors of Benetton, Winston's Barbershop and Yankee Candle Co.
Copyright FREEL - NBC Local Media