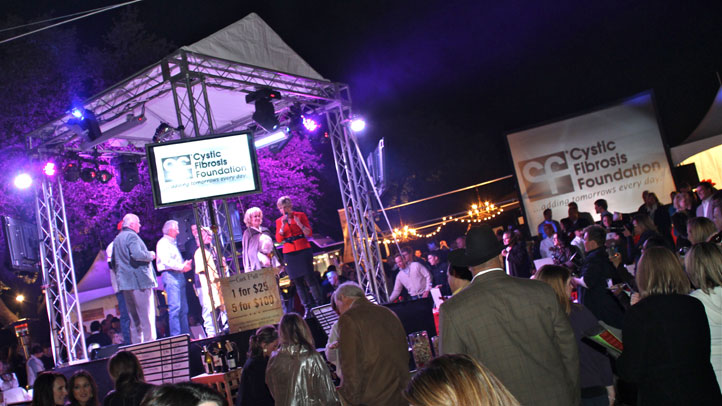 The 12th annual 65 Roses Wine & Food Extravaganza benefiting the Cystic Fibrosis Foundation took place on October 19 at La Paloma Ranch in far west Fort Worth.
The ranch, home to Marcee and Grant James, was the perfect setting on a crisp, cool fall evening as over 700 people dropped $150 a ticket to attend the outdoor event that offered samplings of the finest cuisine in the Fort Worth area.
After arriving on the red carpet, attendees were able to enjoy 21 offerings from a lineup including Michael's Cuisine, Bonnell's, Eddie V's, Del Frisco's Double Eagle Steakhouse, Lanny's and the Fort Worth Club. Newcomers on this year's scene included Bob's Steak and Chop House, The Tavern, The Wild Mushroom and La Bella Cupcakes. In addition to the cuisine, there was a great selection of wine.
With the World Series game on in the background, the auction with items ranging from having one of the top local chefs come to your home and prepare a meal for you to a week stay in Aspen to tickets for local sporting events took center stage. A trip to the Masters golf tournament -- one of the things on my personal bucket list -- was the last item up for bid and was almost instantly out of my price range.
"The unique setting and generosity of the chefs set this event apart from anything else in town," said lead chef Michael Thompson.
Local luminaries attending included Fort Worth Mayor Betsy Price and Texas State Senator Wendy Davis. This year's event Chairs were Chandra Geren Thomas and Robert Thomas and Co-Chairs Amy and Byron Biggs. The organizers goal was to raise $350,000 for vital CF Foundation programs.
For further information on the Cystic Fibrosis Foundation, visit Fortworth.cff.org.
Copyright FREEL - NBC Local Media