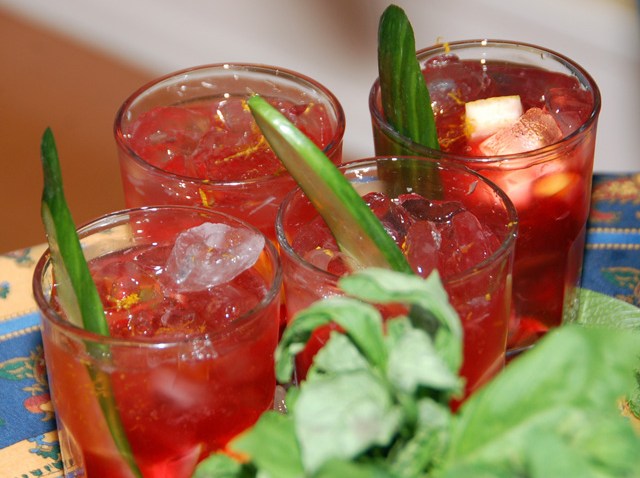 FRANKLY MY DEAR, YOU SHOULD GIVE A DOOR: The Screen Door has come up with the perfect happy hour for teachers that have the summer off -- or for folks who have simply just had a crappy morning at work and need a stiff drink. Monday through Thursday, 11 a.m. until 9:30 p.m., enjoy the following specials at the bar or on the patio: $3 domestic beer, $4 import beer, $5 well drinks, $7 specialty cocktail of the day and $5 house wine. They say you should wait 'til noon, but this is the South! Plus there's a great soak-it-up menu available if need be.
MAKING UGLY MUGS PRETTY: Full disclosure: the following is total speculation. As far as I can tell, the White Elephant Saloon is hosting Mug Night tonight, in which they will fill any mug for three bucks. Maybe it's just me, but I think that means they will fill any liquid holding vessel. You know that huge 64 ounce coffee mug from QuikTrip sitting on your boss' desk? You should liberate it and fill it to the brim with beautiful libations. For under $10 (not including tip) you can lose your inhibitions and gain some beer goggles while dancing to the country sounds of the Crop Dusters.
FROM IRVING TO INDIA: Looking to gain a little insight into Indian culture while still being a stones throw away from a Starbucks if things get a little too intense? Then the Irving Arts Center has just the thing for you. Hugh Adams' stunning photographs capture the essence of the people and culture of India. Adams spent 17 days traveling throughout northern India with fellow photographers and documented the lives of the Indian people. Adams visited the cities of Delhi, Jodhpur, Rohet, Udaipur, Pushkar, Jaipur, Agra and Varanasi during his travels and was profoundly impacted by the spirit, friendliness, humbleness and attitude that transcended the poor living conditions.
---
Get to know What You're Doing Tonight every day by connecting with NBCDFW Around Town. Text DFWTonight to 622339 to get WYDT updates right on your mobile device. Still need more things to do? Check out our Events Calendar.
Copyright FREEL - NBC Local Media