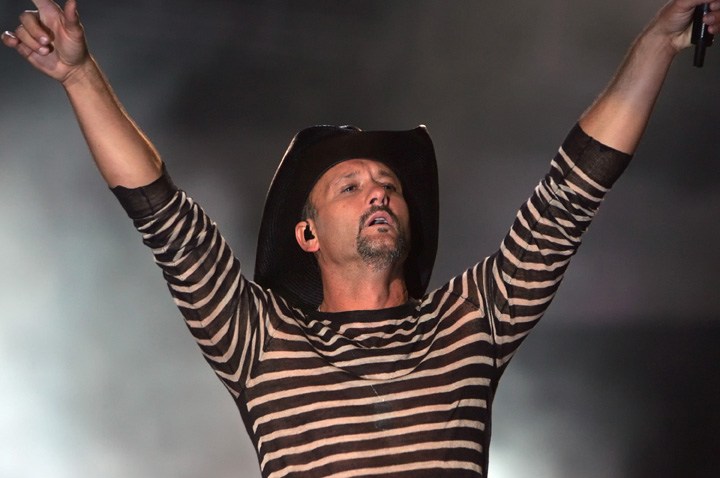 GOOD LOOKIN' PEOPLE GOOD LOOKIN' OUT: Tim McGraw and the Dancehall Doctors roll into town tonight to rock the Superpages Center. With 7.8 million spins at radio, McGraw was the most-played artist of the decade. "Southern Voice," the title track from his latest CD, hit No. 1 on Billboard's Country Songs chart last month and the album debuted at No. 1 on Billboard's Top Country Albums chart in October 2009. Throughout the outing, McGraw and premier tour partner Outback Steakhouse are teaming up to raise funds to support The Neighbor's Keeper Fund of the Community Foundation of Middle Tennessee and Operation Homefront. Funds will be raised through in-restaurant promotions in each of the tour cities, sales of an exclusive Tim McGraw t-shirt and more. Operation Homefront supports active military, veterans, wounded warriors and their families nationwide by providing them much needed resources in their time of need. In addition, McGraw will donate a portion from each ticket sold to The Neighbor's Keeper Fund (http://www.timmcgraw.com/#neighbors-keeper.html), a charitable fund he created with his wife, Faith Hill. The Fund seeks to strengthen communities by contributing to diverse projects with primary emphasis on children's initiatives.
UP UP AND AWAY: Whoever thought up hot air ballon rides is a genius and a madman at the same time. It's the preferred getaway vehicle for Willy Wonka for Chris' Sake! The preferred lighter of illegal substances for Steve Zissou! But even in madness, there is beauty. The feeling of flying high up above the earth. High like a bird. High like a kite. High above Midlothian. Midlothian! Yes, Midlothian is playing host to Dallas-Fort Worth's Summer Balloon Classic and Airfest this weekend. Judging by the list of events it's worth the drive 30-45 minutes south. The three-day event boasts beautiful balloon, formation flights and aerial acrobatics. Some of the events include tethered balloon rides (weather permitting), helicopter and airplane rides, Big Mike's Kites demonstrations, powered parachutes, the Trojan Phlyers T-28 Team in flight and vintage cars on display. There's so much going on we can't list it all! For the kids there are pony rides, a petting zoo, a trackless steam train and the mobile mountain kids area.
RALPH MACCHIO'S GOT NOTHING ON THESE CROSSROADS: Have you ever gone down to the crossroads and traded your soul to the devil? Have you ever sat at the back of a church with the B3 organ pumping loud and the light of God coming in through the stained glass, blinding you...sending you upward on a mission straight from your maker himself. Oh...you've never experienced that kind of thing before. Well first off, we're sorry . Secondly, Will Kapinos, aka Dim Locator has, and he wants to share that mission with you. It's lo-fi gospel and hi-fi inspiration. It's everything that's good and pure about rock and roll, which is everything that could turn evil and eat a person alive in 5 seconds flat. The only man in Dallas that can wear sunglasses at night and get away with it - Aaron Barker and his Telecaster - opens this glorious night of spiritual awakening at the Pastime Tavern down on 1503 South Ervay Street.
---
Get to know What You're Doing Tonight every day by connecting with NBCDFW Around Town. Text DFWTonight to 622339 to get WYDT updates right on your mobile device. Still need more things to do? Check out our Events Calendar.
Copyright FREEL - NBC Local Media