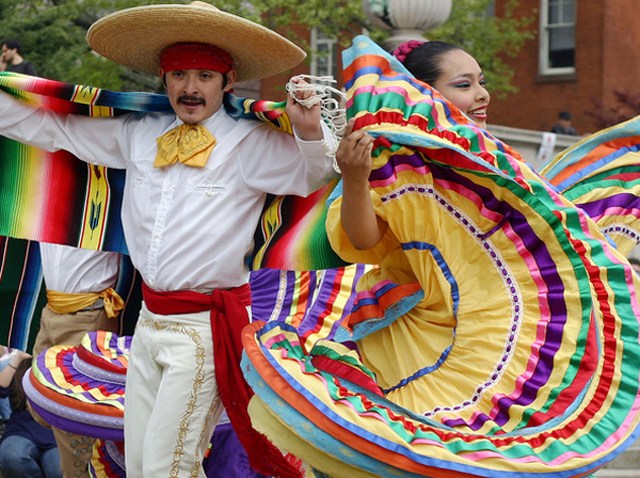 Everywhere you turn, it'll be a fiesta on this Cinco de Mayo.
CASA DE LOS BLUES: Dallas' House of Blues is ratcheting up the Latin-inspired music and dance for two events tonight that are perfect fits for your Cinco de Mayo outing. First, the incredible Gipsy Kings will be playing the main room after the doors open at 7 p.m. If you're not familiar with them, listen here. If you'd prefer something that gives back to the community, the HOB is also hosting a Cinco de Mayo Celebration featuring local Latin dancers and mariachis from DISD high schools. Better still, you can head to this celebration starting at 5 p.m. and still make it to the Gipsy Kings show.
LA COMIDA ESPECIAL: Plenty of Tex-Mex eateries are pulling out special deals for the May 5 celebration. Here's just a few we've collected on our events calendar:
Mattito's Cafe Mexicano in Dallas has mariachis and the band Latin Image to go with their tequila tastings, queso-eating contest, and mechanical bull rides. Oh, and they've got food specials, too. 3011 Routh Street, Dallas. 214-922-8835.
Chocolate Mole Enchiladas and Stuffed Poblano Peppers are on the menu at Tea Thyme in Carrollton. Normally, we don't think of tea and Tex-Mex together, but the cafe and bakery's promotion of giving away a free box of tea to anyone in a sombrero has us intrigued. 1104 Elm Street, Carrollton, 214-483-2TTT.
Plano's Blue Goose Cantina is taking over the front portion of their parking lot, transforming it into a fiesta with drink specials and live music from The Impostles. Don't forget about the food, though -- we've had Blue Goose's fajitas and loved them. 4757 W. Park Blvd., Plano, 972-596-8882.
BEBIDAS DE DESCUENTO: Raise your glasses to these Cinco de Mayo drink specials.
All Humperdinks locations will be offering $2.99 shots of Cuervo Gold, $4.99 margaritas, and specially priced burgers and nachos. The party starts early at 11 a.m. and runs through to tomorrow at 2 a.m.
Ra Sushi in Plano's Shops at Legacy will celebrate with "cinco dollar" cocktails, including pint-sized Strawberry Gingeritas. We're not big on sushi -- especially on what's definitely a Tex-Mex day -- but non-traditionalists that want to focus on the cocktails should have a great time. 7501 Lone Star Dr., Plano, 469-467-7400.
And, of course, we've collected tons of drink specials in our In The Pour House article for this week, making it easy for you to get your drink on for little dinero.
Got more Cinco de Mayo events we should know about? Tell everyone in the comments fields below.
---
Get to know What You're Doing Tonight every day by connecting with NBCDFW Around Town. Still need more things to do? Check out our Events Calendar.