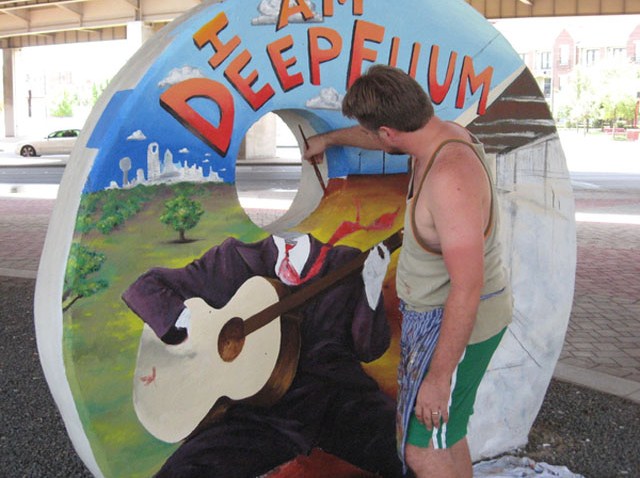 ELLUM UNITED: A film night at Kettle Art fashions yet another way into the Deep Ellum neighborhood, and this one's got plenty of overhead clearance. Footage of the Good Latimer Tunnel, Kettle Art owner Frank Campagna, his crew of local artists and the vibrant Good Latimer Corridor murals suggests the resiliency of public art. What I Am ... Is What I Am, presented by the Deep Ellum Enrichment Project and the Dallas Observer, includes a viewing of Mark Birbaum's Dig Deep and a premiere of Hard Sun Porductions' Dreaming in Color: The Deep Ellum Mural Project. Saturday, 7PM.
BET ON BO: The McKinney Performing Arts Center's newest show, which the New York Times has called "one of the most powerful plays about sports in the last decade," tells a story we all know well: sibling rivalry in a family chaged with expectations, the bucking of assigned roles, and competition that rages on into adulthood. Except this particular version is based on the life of Bo Eason (formerly of the Houston Oilers) and his older, bigger brother, Tony Eason. Bo himself wrote Runt of the Litter, lest we forget that he did, indeed, triumph over his father's predictions. Saturday, 8PM. Find tickets, which start at $21, here.
IN LARGE PIECES: Fort Worth artist Sedrick Huckaby shares his stunning series of four 20 by 8 ft. paintings called A Love Supreme, in which the artist immortalizes his grandmother's friendly quilting sessions (or "jams", as the artist suggests quilting meetings can be) with suprisingly sensual texture. The folds and dips of the blankets as they hang look so real, we want to smooth them out and inspect the handiwork of Huckaby's beloved matriarch. See what that Guggenheim Fellowship Award helped Huckaby accomplish at the opening reception for the Mixed Media exhibit at McKinney Performing Arts Center, 5:30PM.
MEET THE MUSIC: Sunday marks the first of four family-friendly Plano Symphony Orchestra ensemble shows, featuring the famous instrument petting zoo that could introduce your kiddos to their first cello or tuba. This week's 45-minute installation taps into the most primal of childhood instinct: Percussion Junction is its title, and what the kiddos hear will be the easiest to try out at home. Sorry about that. Sunday at 3PM, Courtyard Theatre. Ticket 4-packs start at $21.60.
Copyright FREEL - NBC Local Media