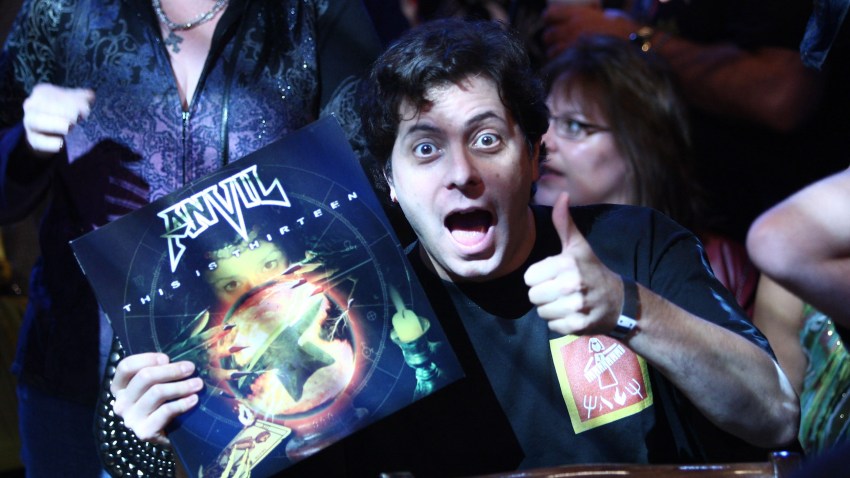 HEAVY METAL: They're scorching loud, unfathomably influential, and Canadian. And they won't stop trying to win your love. Anvil, the subject of a 2008 documentary that gathered critical acclaim and desperately needed attention for the musicians, plays House of Blues with Mitra. Tickets to The Anvil Experience start at $15 dollars. Show at 8PM.
SCARY SINGIN': First we saw upside-down tap dancers. Now we're dealing with Monty Python if it was a a Hitchcockian spy thriller? The Majestic is a circus of sorts these few months. We advise you to grab some (theoretical) cotton candy and go with it as Dallas Summer Musicals presents Alfred Hitchcock's 39 Steps, whereinwhich four cast members play upwards of 150 characters. Tickets start at $15. 8PM.
BANDSTAND: There is absolutely no energy like the kind coming from the turntable when a Benny Goodman live record spins on it. We do not care how many fantastic new bands you've found to get excited about; a big band unleashed does better to unite us all in rowdiness. So it's cool that the Dallas Wind Symphony is stepping up to the plate with adaptations of Goodman, Glen Miller, and Tommy Dorsey hits -- we just hope they break the plate, capeesh? Tickets to SWING! SWING! SWING! at the Meyerson Symphony Center start at $20. 8PM.
Copyright FREEL - NBC Local Media