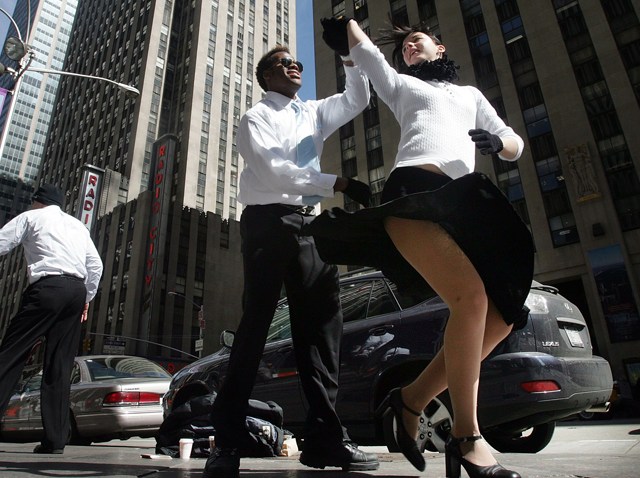 REBUILD IT: Drop a few bucks at most of your Bishop Arts faves this First Thursday -- Green Pet, Fete-ish, and Zola's Everyday Vintage, for example -- and part of the proceeds will go toward the Texas Theatre renovation project. Among the sweet deals this go-round: an open house at Hula Hotties Cafe and Bakery where you can sample rum raisin tarts, eggnog cheesecake and other curious holiday treats. 5-10PM.
DANCE TO IT: Johnny Lloyd Rollins is no impersonator. But when it comes to channeling the showmanship of '50s guitar kings, he's got the catchy tunes, the dreamy mug, and the energy to deliver the right-sized pinches of timeless Elvis and rockabilly vibe. Before heading into the studio to record a new album with Chris Holt in a crisp three-day session, Rollins hops to Thomas Avenue Beverage Co. (but you should call it TABC) for an acoustic show with some oldies -- his own, he tells us, and some covers, Beatles and Elvis-style. 9:30PM.
REVISIT IT: As the Old Guards of Dallas music ethos in their own ways, Russell Hobbs and Jeff Liles team up to co-host a 25-year reunion party marking the anniversary of The Theatre Gallery's opening and the venue's part in boosting Deep Ellum into destination territory for open-minded music fans in the mid-'80s. The Prophet Bar, which opened back up in 2007, did its part then too, and has found itself in the middle of another attempted resurgence of the area. Patrons of the clubs -- old and new -- are invited to jam to bands like Loco Gringos, onetime house band for The Theatre Gallery, and Homespun Remedies. [Eep. This isn't today after all, but it's worthy to clear your schedule on December 5 for this show at The Prophet Bar, 7PM.]
Get your everyday fix of What You're Doing Tonight by signing up for our newsletter, right here.
Copyright FREEL - NBC Local Media