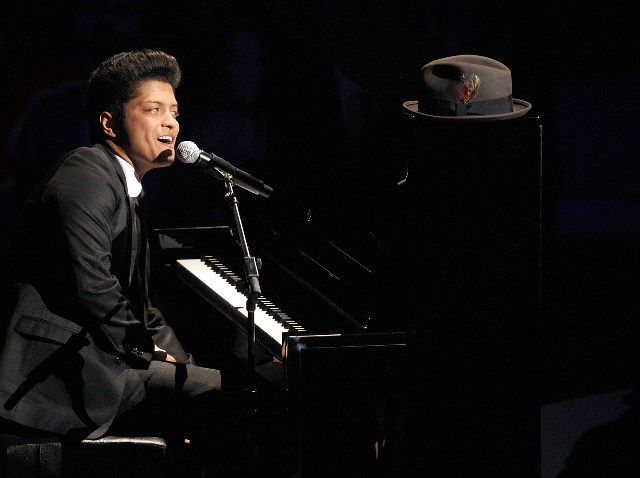 TAKE A TRIP TO MARS: Arrest aside, Peter Hernandez (alias Bruno Mars) recently stole hearts with his hit single "Just the Way You Are" – making the female population swoon, reaching No. 1 on music charts in at least seven countries. The Hawaiian-born performer produced artists like Travie McCoy, Sean Kingston and Flo Rida prior to his solo project and even popped up on a handful of tracks singing catchy hooks. Mr. Mars is flexing his vocal and lyrical chops on his debut album "Doo-Wops & Hooligans" – just released in October. The New York Times hails the artists as, "one of the most versatile and accessible singers in pop, with a light, soul-influenced voice that's an easy fit in a range of styles, a universal donor." Hear the soulful pop sensation tonight at the Palladium Ballroom at 8 p.m. Tickets are $17.
EXCUSE ME, I'M SPEAKING: The University of Texas at Arlington's Maverick Speakers Series presents a night with journalist and television personality Lisa Ling. This past May, the former co-host on "The View" released a book with younger sister Laura Ling titled "Somewhere Inside: One Sister's Captivity in North Korea and the Other's Fight to Bring Her Home" chronicling Laura's imprisonment last year. The night dedicated to an "Open Heart, Open Mind" will feature Ling leading a conversation about current events while chatting about her gig as host of "National Geographic Explorer" and side projects. Hear the elder Ling speak about her book for an evening dedicated to investigative journalism chit chat beginning at 7:30 p.m. at Texas Hall. The event is free to the public.
POETS AND PIN-UPS: Grapevine is shaking things up with an evening of "Poets and Pin-Ups" at the Tap In Grill and Pub. Richard Paul Davis and Paging Bettie Productions will perform a classy Burlesque number to the tune of "Tupelo Honey" and encourage all to dress up in a retro-style ensemble (preferably from the '40s or '50s) for a pin-up contest crowning the "Boldest Bettie," "Coolest Cat," "Swingin'est Couple" and "The Ultimate Vargas Girl." FYI: No pasties will be tolerated in the contest. The event benefits Toys4Tots and everyone arriving with an unwrapped toy will receive a raffle ticket for prizes. The night of retro bombshells lasts from 8 p.m. to midnight.
---
Get to know What You're Doing Tonight every day by connecting with NBCDFW Around Town. Text DFWTonight to 622339 to get WYDT updates right on your mobile device. Still need more things to do? Check out our Events Calendar.
Copyright FREEL - NBC Local Media