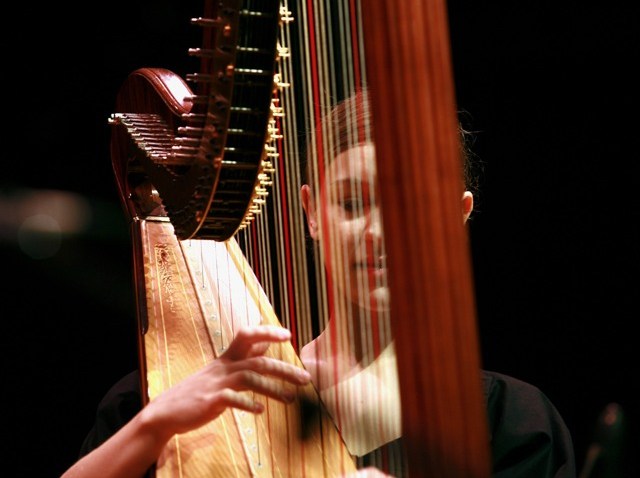 HARP HYPE: The fairy tale sounds of Joanna Newsom hardly do the multi-talented indie artist justice. Singing with an Appalachian musical style while harp-stringin' beats and tickling the ivories, the Cali native stands alone in the world of acoustic guitars and drums dominating the indie scene. Pitchfork Magazine describes Newsom's sound similar to Joni Mitchell on her third album "Have One on Me" – following with a 9.2 rating for best new music. Newsom's unstructured vocal style and artistic lyrics add character to her tracks taking fans on a journey with each melody. Hear the harp songstress at the Granada Theater in Dallas tonight with Ariella Daly. Doors open at 7 p.m.
HARDCORE ATTACK: Where there's indie, there's rock. A Skylit Drive has the sound of head banger thrash with hints of smooth musicality. The six-man band (also from Cali) released their second album "Adelphia" over the summer of 2009. Since then, the band has been hinting at the release date of album No. 3, but limits details to just early 2011. See the post-hardcore sound dominate The Door in Fort Worth tonight at 8 p.m.
KIND OF A FUNNY STORY: Ray and Ronnie are just two guys who get into trouble when they encounter a woman, the mob and a lingering dog in the play The Dog Problem. Originally written by David Rabe in 2001, the play premiered in New York City and makes its Dallas debut at The Undermain Theater. Receiving praise from D Magazine for its hilarity and actors – the comedy is a hit throughout the Metroplex. See the show for yourself at 7:30 p.m. But no worries if you can't make it, the play will run until Nov. 27.
---
Get to know What You're Doing Tonight every day by connecting with NBCDFW Around Town. Text DFWTonight to 622339 to get WYDT updates right on your mobile device. Still need more things to do? Check out our Events Calendar.
Copyright FREEL - NBC Local Media