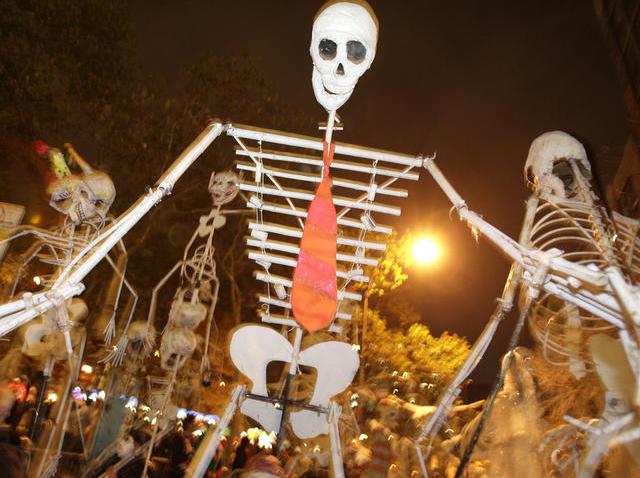 THE ART OF THE DEAD: Dia de los Muertos (Day of the Dead) is a Mexican holiday, celebrating and remembering the life of the dead throughout the month of October. Remembering loved ones through art, stories and food is tradition. The Modern Art Museum of Fort Worth continues with that tradition by putting together an ofrenda (altar) featuring food of the dead with figurines created by Saul Moreno from the museum's collection. The ofrenda presents personal offerings to the returning spirit of departed loved ones. The festival continues through October 31.
LET THE DEAD PLAY ON: Ryan Bingham and the Dead Horses began in 2007 with their studio record debut "Mescalito" and have since collected an Academy Award (Best Original Song for "The Weary Kind" from the film "Up in the Air"), traveled throughout the U.S. and just released a third album, "Junky Star" in August. With musical roots in rock and Texas country, this southwest crew knows how to live hard and play guitar all while taking shots of whiskey. Ryan Bingham and the Dead Horses perform live at the House of Blues Dallas tonight at 9 p.m.
A MARATHON OF HORROR: The Master of Suspense directed more than fifty feature films throughout this career. This month, all the thrilling plots and story twists will play out at the Angelika Film Center & Café at Mockingbird Station for Hitchcocktober. The outdoor film series begins with the 1963 classic "The Birds" – that will leave you wondering, why is that pigeon just standing on top of my car looking at me? Hitchcock films tend to play with the minds of viewers. The Hitchcock tribute kicks off tonight at 8 p.m. and will continue every Thursday evening in the outdoor mezzanine. Read more information about the event here.

---
Get to know What You're Doing Tonight every day by connecting with NBCDFW Around Town. Text DFWTonight to 622339 to get WYDT updates right on your mobile device. Still need more things to do? Check out our Events Calendar.
Copyright FREEL - NBC Local Media