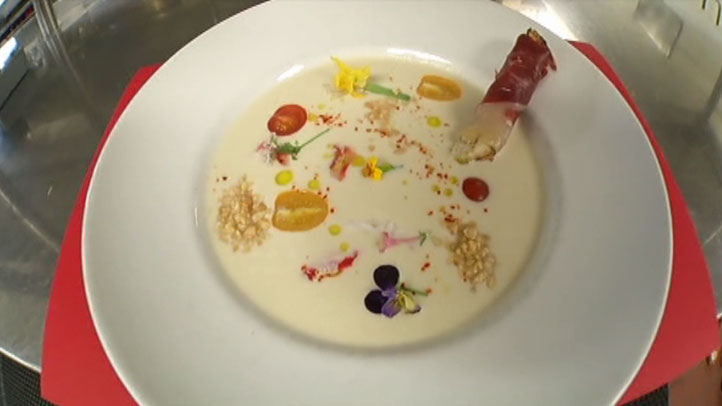 Yield: 4 cup
Portion Size: 8 oz
Num Portions: 4
Quantity -- Ingredient
3 ea -- peeled, sliced english cucumber
1 cup -- toasted marcona almonds
1 tbl -- minched garlic
3 slices -- crust removed ciabatta bread
½ cup -- olive oil
½ cup -- whole milk
¼ cup -- sherry vinegar
0 as needed -- sea salt
¼ lb -- sliced thin jamon iberico boneless or other cured meat
4 slices -- toasted ciabatta bread
4 ea -- sliced heirloom cherry/pear mix tomato
0 as needed -- olive oil for garnish
Procedure
Method For Gazpacho:
1. In high speed blender (vitamix) blend together cucumber, marcona almonds, garlic, sherry vinegar, olive oil, crust removed ciabatta bread and milk
2. Blend on high speed until completely smooth, about 3 minutes
3. Season the mixture with salt to your desired taste and reserve cold
4. Wrap sliced cured meat around toasted ciabatta bread.
To Serve:
1. Pour cold soup into cold bowl.
2. Garnish with cured meat wrapped crustini
3. Garnish with sliced heirloom tomatoes and drizzle with desired amount of olive oil
Prepared by: Grace