Joanie Schultz, WaterTower Theatre's new artistic director and recent Chicago transplant, studies a giant map of the Dallas/Fort Worth area in her office, as she learns to navigate her new home and figure out how WaterTower Theatre can better connect to the diverse community it serves.
Less than a year in her new job, Schultz established Intersections, a community engagement program designed to offer context for the theater's productions and spark conversations.
"One of the things I've noticed about living here so far is that because our communities are spread out and we can drive everywhere, we get to be pretty choosy about who we run into. The theater provides, to me, a safe place to encounter otherness either on the stage or in conversation. It gives us the opportunity to bring diverse people together to talk about things and be at that intersection," Schultz said.
Intersections is inspired by Public Programs at Victory Gardens Theater, where Schultz served as an associate artistic producer. The program consists of talkbacks with artists, playwrights and community leaders, play readings, community discussions, and workshops.
The theater's education department publishes a play guide with extensive behind-the-scenes information about the shows. WaterTower Theatre's current production of Hit the Wall, Ike Holter's play about the Stonewall Riots of 1969, provides ample opportunities for Intersections programming.
"It started naturally as we were programming Hit the Wall, knowing that it's a really different kind of show than what WaterTower does and that it's really speaking to the LGBTQ community. We wanted to build bridges with that community and develop authentic conversation with that community," Schultz said.
The theater has already hosted a talkback with the playwright and a conversation with LGBTQ youth as a part of the community engagement program. Upcoming Intersection events include conversations about queer studies, life during the 1960s, and discussions with cast members and with parents of LGBTQ youth.
Intersections also includes Local Band Nights, a series of concerts free with the purchase of a ticket to Hit the Wall. The theater's patrons are intrigued by both the show and the community engagement program.
"I think people right now are Intersections-curious," Schultz said "What has been overwhelming is how surprised people are at how moved they are. I've gotten lots of emails from people who have had long conversations afterwards about Stonewall and what happened."
Schultz intends these conversations will provide perspective for the plays and enrich the audience experience. "It's not just 'I went to a play', but 'I came to see a play and it made me think about what's going on in my backyard'," Schultz said.
The theater's staff is planning upcoming Intersections programming for Schultz's next directing assignment, Pride and Prejudice. The challenge for the staff revolves around developing compelling, culturally-relevant community conversations about great classic literature.
"It's an interesting riddle because it doesn't line up as perfectly as it did with Hit the Wall. That's where we'll have to get creative about Intersections," Schulze said. "As a director, I'm always thinking 'Why this play now? Why should we even care?' The play lives on a page somewhere, but you're the one breathing life into it in this particular moment and you have to know why."
Schultz's first season at WaterTower Theatre includes the world premiere of Dallas native and award-winning actress and playwright Regina Taylor's Bread. The play features a family living in Oak Cliff contending with encroaching gentrification. Schultz was not confident WaterTower Theatre was the perfect fit for the show, but Taylor was adamant.
"She was like 'Here's how you do it: you have to build bridges. You can build bridges and you can talk to that community. You can do it responsibly and I actually think Addison is the ideal place to do this play.' She was very fervent about it," Schultz said.
Taylor has embraced the concept of Intersections, developing plans for intimate events involving community leaders and numerous dialogues about Dallas' changing cultural landscape. "I think it's made her think deeper about the play in a really exciting way," Schultz said.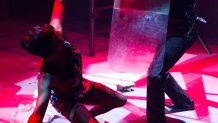 For Schultz, Intersections provides her with an opportunity to connect with her new home and artistic colleagues as an artistic director.
"It's a position of service and it's a service to the community you are in and to the artists who will work here. I think one of the things this is helping me with is giving me a more comprehensive understanding of who is here and what they're talking about and where they live and how I can understand the complex matrix of people living here. It's my responsibility to program exciting, intriguing artistic work for this entire community," Schultz said.
Hit the Wall is now playing through August 20, 2017.
CLICK HERE to read review from our media partners at The Dallas Morning News.

MORE: Water Tower Theatre - Audience Enrichment Intersections

Kimberly Richard is a North Texan with a passion for the arts. She's worked with Theatre Three, Inc. and interned for the English National Opera and Royal Shakespeare Company. She graduated from Austin College and currently lives in Garland with her very pampered cocker spaniel, Tessa.
Copyright FREEL - NBC Local Media